Passionate Performance - Joy Viceroy '13
Passionate Performance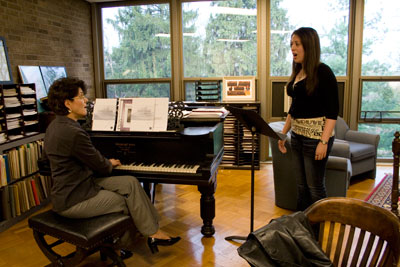 Joy Viceroy '13 with music professor and Women's Choir
director Nancy Menk.
For rising sophomore Joy Viceroy, nothing beats the rush she feels as she takes a final bow. Her intended music and theatre double major has already provided her with the thrill of performance, though she has only just completed her second semester here. She is a member of the Women's Choir, the Liturgical Choir, and had roles in two College theatrical productions last spring.

Joy's most passionate performance, however, takes place off the stage. She is a tutor through the College Academy of Tutoring (CAT) program through the Office of Civic and Social Engagement (OCSE. During the academic year, Joy volunteers as a teacher's assistant at Coquillard Primary Center, a Title I school in South Bend.

She and her fellow CAT tutors work with children to improve their math and reading skills, no small feat in a school where absenteeism abounds due to children's various family and financial struggles.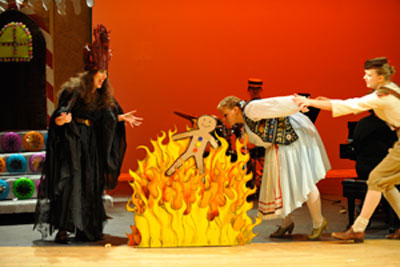 Joy played a wicked witch in the spring campus
production of "Fairy Tale Tunes."
Joy, who plans on remaining a CAT tutor through her senior year, says the experience has impacted her deeply. "The children I work with have taught me more than they could ever know about life, love, and learning," she says.

Just before winter break last year, her first graders at Coquillard wrote letters to Santa. The catch was that they had to ask for something for someone else. One little boy asked Santa for a job for his dad, which touched Joy's heart. "As a child, he should be going to school and having fun with his friends, not worrying about such 'adult' issues. To ask for something of that magnitude showed me the love that he must feel for his dad," she says.

Joy's class is the first to embark upon the Saint Mary's journey guided by the Cross Currents program. The program combines efforts from three College divisions: Academic Affairs, Mission, and Student Affairs. Programming encourages each student to explore her vocation or calling in life by considering four central questions: "Who am I?" "What is my passion?" "To what am I called?" and "How can I make a positive difference in the world?"

Through her membership in numerous campus clubs and activities, including the drama club, Thespians Unplugged, Joy has taken advantage of opportunities to explore the subjects nearest and dearest to her heart. She has intentionally dedicated her first year to asking the question, "Who am I?"

The answer to that question, Joy says, is a matter of exploration. "Although I am bound and determined to make a career for myself on the stage, I have considered other options during my short time here," says Joy. "Who am I today? Today I am a performer; however, yesterday I was an economist. Tomorrow I might be a liturgical musician." The question has launched her Saint Mary's journey and inspired self-exploration that will propel her growth throughout her four years at the College.