Pay It Forward
Pay It Forward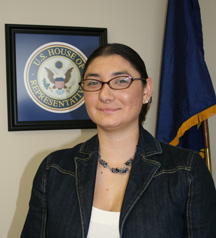 Every member of Congress should have at least one social worker on staff. Just ask Nikki Gonzalez.
A 2001 Saint Mary's graduate, Gonzalez is a senior case manager in the office of U.S. Representative Joe Donnelly. Her job involves serving Indiana's second district up close and personal—handling immigration cases, dealing with the federal government, soothing unhappy constituents, supervising staff, and sending weekly reports to her boss in Washington D.C.
"You have to be able to speak with people and listen to their issues. You have to know what kind of questions to ask them to get the information you need in a sensitive way. You have to have empathy," says Gonzalez. "Not everyone is cut out for this kind of work. When I do this job, looking at 'people skills,' I can tell who has had social work training and who hasn't."
Gonzalez began honing those skills as a Saint Mary's social work major. Senior year, she had a field placement two days a week with Child Protective Services, advised by Professor Patricia Hancock. The work often involved children in difficult family situations, and Gonzalez found it hard. "My advisor said, 'Nikki if it doesn't affect you, it's not for you. If you're not passionate about what you do, then you need to get out.' That made me feel better," remembers Gonzalez. "Senior year, I learned that working with people is where I wanted to make a difference. It shaped my knowledge of what to do with my life."
After graduation, Gonzalez worked on immigration issues for U.S. Congressman Tim Roemer in Indiana. When he retired, she returned to her home state of Texas to do quality assurance training with an engineering company. "The social work skills do come in handy no matter what position you hold," she says.
This fall Gonzalez will pass on her knowledge to a new generation, mentoring social work major Adriana Lopez '08, who will do her field practicum in Donnelly's office. "She is going to have her own casework, with the same responsibilities that everyone else has," says Gonzalez. "At the end of the year, my goal is to have her know everything about immigration and be able to answer any question. Ultimately, I hope to have her on my level when she leaves here."