Personal Best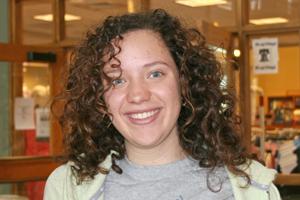 When it came to choosing a college, senior Edie Chittenden says she wanted a place that would put her outside her comfort zone, where she could challenge herself. "I knew Saint Mary's would get me where I wanted to be in the future," says the native of Lowell, Mich.
Working on a double major in biology and French , Edie says she enjoyed her first few courses in biology because they were difficult and challenging, but she came through them successfully. "It made me see in myself that I was in fact, able to do this." She credits Dr. Tom Fogle with her first good impression of the biology department. "His energy and love for Saint Mary's made me love it even more. He is now my senior comp. advisor and has been nothing but supportive." Edie has been on the Dean's list each semester at Saint Mary's.
Edie studied abroad in France during the spring semester of 2008. "Every day was a constant learning experience-learning about new cultures, a new language, and even myself," says Edie. "I became more independent, open to others and their beliefs, and I did not regret a minute of it."
Edie plans to enter a physician's assistant program after graduation. She is a certified nursing assistant (CNA) and is in an internship at the Yale-New Haven Hospital through their college summer program. "It's a great program for career exploration," says Edie.
On campus, Edie sits on the Student Affairs Board (SBA) and was selected as the Outstanding Member of the board this year. She is also a member of the Residence Hall Association (RHA), last year acting as the All School Formal co-chair. The formal event she helped plan was voted best event for the year.
Edie works at the Women's Health Center, and volunteers with Breast Cancer Awareness. She also volunteers with Read to a Child, and she is a Peer Mentor for incoming first year students. Next year she will be one of two Senior Chairs for the Class Gift Campaign, educating students about the importance of giving back to Saint while raising money for their senior gift to the College.
In addition to her interests in science and language, Edie has been taking private piano lessons all three years she's been at Saint Mary's. "I put a lot of energy into learning piano and it is something about myself of which I am most proud," says Edie. "Music challenges me in a whole different way than science, and I feel the difficulty of it is often overlooked by the idea that science is one of the hardest topics."
For Edie, the best part of being a Saint Mary's student is the bond shared with fellow women. "Being at an all women's college, I always feel comfortable being myself in the dorm as well as in class. This great environment is also present with my professors who are involved in our education, helping us achieve our highest potential."