Personality and Passion - Laura Glaub '12
Personality and Passion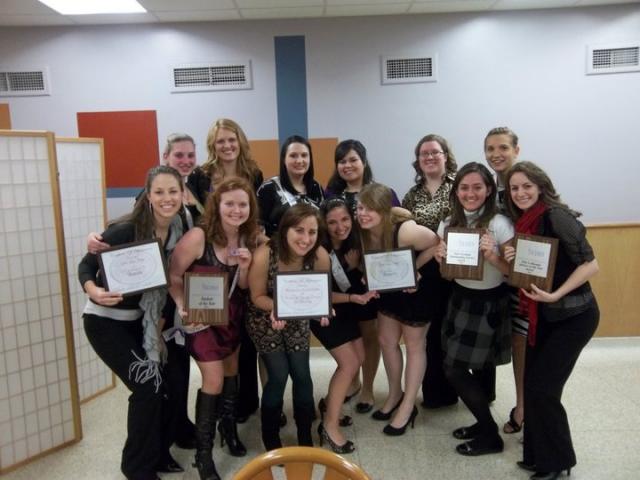 Laura (front, third from left) at the Indiana Residence Hall
Organization Conference.
Junior Laura Glaub was a little girl when her aunt Nancy was diagnosed with breast cancer. The experience impacted her deeply and Laura made it her mission in life to support breast cancer research. It's been her dream to work for the American Cancer Society ever since. Recently, Laura interned at the Lansing (Michigan) Cancer Society near her hometown of Okemos, and she now interns at the St. Joseph County branch near Saint Mary's.
She says that working for the ACS is still her dream job. Relay for Life, ACS's worldwide annual fundraiser, which is completely volunteer run, is one of Laura's favorite events of the year. It's a 24-hour campout where volunteers take turns running and walking a track, path, or road in the name of all cancer victims and survivors. 
"The emotion of sadness, madness and happiness all in 24 hours is incredibly overwhelming and worth it," Laura says of all the volunteers' hard work. "To see survivors, caregivers, family members, activists, cancer patients all together into one community is the best inspiration that you could ever see. If you have not been to a Relay for Life, I strongly recommend it."
Laura's passion for social causes led her to a major in communication studies, with minors in women's studies and social work. "I came into Saint Mary's wondering if I should do education, although my high school friends told me I would be the perfect public relations or event planner…In communications you study society, the media and people. I began to realize that I wanted to do something to help people that are affected by society, media, and the people around them," she says.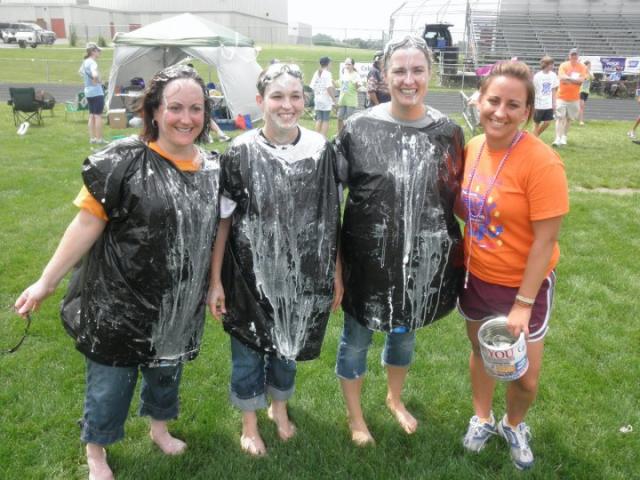 Laura (right) at an ACS event.
Her desire to understand how all of these elements come together and affect one another carries over into her passionate volunteer work, on and off campus. She says she's "kind of a club nerd," and is a member of the Residence Hall Association, the Student Government Association, the Dance Marathon Entertainment Committee, and the Belles Against Violence Student Advisory Committee.
But wait, there's more. Laura's interest in women's studies led to her participation in Saint Mary's Love Your Body Week, which she helped organize. Learn more about Love Your Body Week.
"I think working in all these different clubs you learn a lot about people and the different personalities that you will come in contact in your life. You also learn a lot about balancing and working with different activities," says Laura. It's the major life lesson she's taking away from all her college experiences.
Laura's resume is a long list of community involvement and leadership positions. She's looking forward to a stint in the Peace Corps after graduation next year. "I love planning, participating, and meeting a lot new people. It is what I want to do every single day." Her leadership qualities recently earned her recognition as the 2011 Saint Catherine's Medal recipient.