Photo Finish
Photo Finish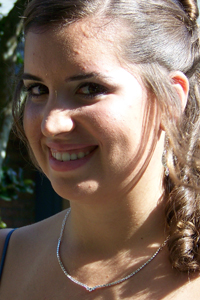 In high school Tara Doyle '13 was part of a yearbook class where she was responsible for ten spreads including a copy story and pictures that she had taken. Her senior year, Tara became the copy editor for the class. After starting her first semester as a student at Saint Mary's College, she discovered that her efforts had contributed to the yearbook winning an award from the National Scholastic Press. "I was on my high school's Web site looking at the monthly newsletter. There was a couple sentences and a picture of the six seniors from my class, including myself," Tara reports.
Tara has brought her award-winning skills here to the College. The intended humanistic studies major and psychology minor is working to make Saint Mary's yearbook, The Blue Mantle, just as successful as her high school's yearbook.
During her first visit to the campus Tara says, "I fell in love with everything about Saint Mary's. The campus, the people, just the atmosphere in general were what made me choose Saint Mary's over other schools." Tara also appreciates the fact that Saint Mary's challenges her academically, which is exactly what she was looking for in a college. Listing her favorite classes as anthropology, introduction to psychology, and language and literature, Tara says, "I love the subject material of all three and the discussions we have. I have never really gotten a chance to have discussions in class."
Saint Mary's has also allowed her to grow as a person. "In the two months that I have been here, I have matured, become better at time management, and learned to be entirely responsible for myself," says Tara about how the College prepares women for the real world.
None of Tara's experiences would have been possible without the help of financial aid. She was awarded the Presidential Scholarship Award, as well as other financial aid. The aid that was given to Tara allowed her to come to a school she loves instead of a school that was less expensive, but didn't meet her expectations.
Tara excelled in high school and is determined to do the same here at Saint Mary's. "I am forever thankful for this chance, and I will live up to its expectations."
—Lauren DeBruce '11