Piano Man - Professor Jeffrey Jacob
Piano Man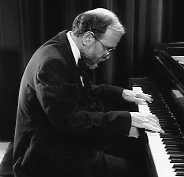 Jeffrey Jacob's music has taken him all over the world. The concert pianist and music professor grew up with an instinctual love of classical musical from all periods and was playing the piano by age five. Now he performs 10 to 20 concerts per year and has released and contributed to 21 CDs.

Jacob has played for audiences from Hong Kong to Dublin and all over the U.S. Two of his most memorable performances were forays into Warsaw, Poland, before the fall of communism. "There was a big rush to bring Western music into these communist countries and to play there was wonderful," he says, not to mention his visit to the home of Chopin where Jacob stood in front of the renowned composer's piano.

Jacob himself has composed three symphonies, three piano concertos, and numerous works for piano and chamber ensemble. Jacob obtained his master's degree at Juilliard and his PhD from the Peabody Conservatory at Johns Hopkins University.

Jacob's accolades include reviews by The Washington Post and the Irish Times in Dublin, remarking on his "immense artistry" and calling him "one of the outstanding pianists of his generation."

But Jacob's most devoted audience is his students. Jacob teaches piano, music history, and music theory courses. He loves the variety. "I can rant and rave about all my favorite composers," he laughs.

Far from raving, his students find him inspiring. A small theory class of three students has him stepping onto the couch in his office to reach the blackboard behind it and illustrate his point. It's Jacob's passion and encouragement they find inspiring, whether he's teaching advanced music theory or introduction to piano.

Student Julie Laemmle '11 was a novice when she stepped into Jacob's group Introduction to Piano class as a first-year student. It was the first time she had touched a piano and she couldn't read music.

Julie admits she thought the one-credit course might be an easy "A," a fun elective to round out her first semester schedule. So she was surprised when playing the piano turned out to be more of a challenge than she'd anticipated. "It became one of my most difficult and time-consuming classes," she recalls.

Jacob came to the rescue. He coached Julie through her rocky start and taught her the fun in learning something completely new. Julie was so inspired by his enthusiasm that she continued with private piano lessons in the spring.

Jacob works at making music fun for his students. In his history courses he incorporates not just classical music, but jazz, pop, and rap, into his lessons. He wants his students to come away with a broad perspective on the various genres. "The thing I value most about Saint Mary's, besides the students, is the liberal arts education here," says Jacob. "Music majors gain a world view of history, the arts, and the sciences, in addition to music."

Jacob does his best to bring a well-rounded perspective to the classroom. When not performing, he is writing music or traveling, hiking and studying the Spanish language. "Anything that gets my blood pumping," he says.