Picture Perfect
Picture Perfect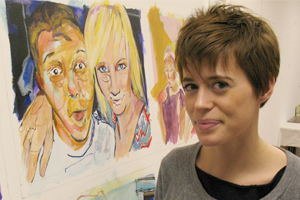 Senior Mary Strebinger has known since the age of three that she wanted to be an artist. "I had a lot of aunts who were artists and I think growing up around their work, I was influenced by that," explains Strebinger of her early interest in art.
Strebinger is working on a BFA in studio art . Creating large, multiple bodies of work at a time, she averages about 20 prints a semester. "I make art about the internet and social relationships," explains Strebinger. She works in print-making and painting, with drawing being one of her favorite things to do. "Painting is really great because it's just this battle with the canvas and color. So it's drawing at the next level. Basically you're just drawing with liquid color."
In addition to the work that Strebinger has done at Saint Mary's, she was in a residency program this past summer at the South Bend Regional Museum of Art. She helped with classes, public projects, the Festival of Banners program, and Art Beat, an event in downtown South Bend that features the work of local artists. As part of the residency, she received studio space and a chance to create new work.
As someone who considered herself shy during high school, Strebinger, credits her Saint Mary's experience of small, all-women classes for being intimate and nurturing. "I've learned to open up and speak my mind and respect others at the same time." Saint Mary's has also given her an advantage over her art student friends at other colleges. "We get to show our work a lot more than most undergraduate art majors," comments Strebinger.
Originally from South Bend, Strebinger was already familiar with Saint Mary's; her mother had taught here, and one of her neighbors taught here too. While she knew art professor Bill Sandusky as "Mr. Sandusky," she has gotten to know him as a friend and as a mentor. "I think that he's really helped me with my confidence when showing my work," explains Strebinger. "He's really opened up doors for me and I'm really grateful for that. I never really know how to tell him thank you."
While Strebinger looks forward to getting her MFA someday, she's applying for residencies, and awaiting other opportunities. Presently she is preparing for her senior comprehensive, which includes an exhibition on April 4th. Whatever her choice, she's sure to paint a bright future.