Play-By-Play - Chelsea Pacconi '13
Play-By-Play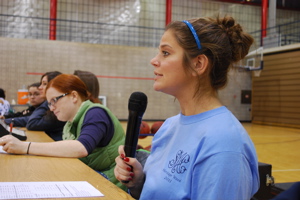 If you've been to a Belles varsity basketball game lately, you've heard expert play-by-play commentary over the PA system. But you may not know the face behind that confident voice belongs to Saint Mary's own Chelsea Pacconi '13. Chelsea took a job announcing for the Belles, at first, because it was one of the only basketball-related jobs left open when she applied with the Athletics department. She kept the job because she loves it.
As the game announcer, Chelsea announces the pregame MIAA (Michigan Intercollegiate Athletic Association) sportsmanship policy, the starting line-ups for both teams, and some play-by-play commentary. She's well qualified for the gig, having played basketball in both grade school and high school in her hometown of Pittsburgh, Pa.
"The thing I enjoy most is being able to announce when one of my friends on the basketball team scores or makes a really big play. I love being able to make the games more entertaining for the spectators, especially students," Chelsea says.
Spectators at the Belles games will tell you that Chelsea has a certain talent for that. It stems from her passion for all things sports-related. "You can ask any of my roommates and they'll tell you I spend way too much of my time watching ESPN and being on ESPN.com," she jokes. Chelsea also works during Saint Mary's intramural competitions, when groups of Belles compete against one another in everything from sand volleyball to flag football. 
In addition to her participation in Belles sports, Chelsea is a determined future businesswoman, bringing her enthusiasm to her studies as an accounting major and marketing minor. "I've always had an interest in doing something in the professional business world, but I didn't know exactly what until I came to Saint Mary's," she says. "I discovered, from taking some of the "six-pack" BUAD courses—six required business administration courses—last year, that I had both a passion for accounting and marketing." 
Chelsea is busy applying for business internships for the summer as she looks to gain some hands-on accounting experience. In the meantime, she'll be studying, spending time with her friends, and taking up her post at the announcing table, cheering the Belles on to victory.