Political Animal
Political Animal
She called it.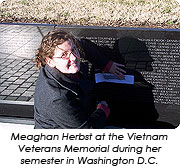 Early in the morning on Election Day, most college students around the nation were sleeping, not going to the polls. But Meaghan Herbst—who had already voted absentee in her hometown of Ticonderoga, New York—was up and forecasting.
"The House is going to go Democrat for sure," the Saint Mary's senior predicted. And would the Democrats take the Senate? "If they get just two of those swing states, they could do it," she said. "People want change."
Admittedly, Herbst had an inside advantage when she placed her bets. A political science major and president of the campus College Democrats, Herbst spent the fall working phone banks, canvassing neighborhoods, and registering voters.

"I've always followed politics and the news, but I never acknowledged that I was politically active until I came to college and took my first political science class. And then it kind of hit me," Herbst says. "I found myself constantly thinking about all these issues that we were talking about."
Adding a French major to the mix, Herbst says, "I loved history and philosophy , too." Sophomore year she spent an "amazing" semester abroad with the Saint Mary's program in Dijon, France . But it was junior year, studying on the Washington Semester program, that she discovered her inner policy geek.
"I just loved being in a city that was so politically active," she says of her time in the capital. "Everyone thinks it's so boring to go to committee hearings in the Senate or House, but I loved them. I would sit there taking notes, and thinking it was so great. It was amazing seeing representatives at work." She also networked with Saint Mary's alumnae in the D.C. area.
Back on campus Herbst follows national politics with the Washington Post , the New York Times , and CNN.com. She also likes—yes, likes—to watch C-SPAN and peruse French newspapers and the Congressional Quarterly . When legislation seems important, "a lot of times I actually will go online and read the proposal or bill." And those fake news shows are good, too. "I love The Colbert Report ," she admits.
For the future, Herbst is considering graduate programs in public policy and nonprofit work on health care issues. "Health care, Medicare, Social Security—these are things that are going to be deciding the fate of our country in the next 20 years … I know that I'm only one person, but I have dreams and aspirations to work on that."