Possibilities - Grace McClurkin '11
Possibilities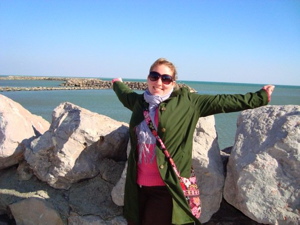 Grace McClurkin '11 says it would have been silly not to add a French major after returning from a study abroad stint in France. She only had a few courses left to complete the major. That's the logic of a math major who fell in love with all things French.
Grace studied both French and math in high school and they were her most challenging and engaging courses. At Saint Mary's, she says both have opened up possibilities for her.
First, she had the opportunity to study abroad for a semester through the College's program in Dijon, France. All of her classes were taught in French and Grace lived with a host family who spoke only French. She came home with a great grasp on the language and a passion for exploring new places. While abroad, Grace also visited Spain, Italy, Ireland, Luxembourg, and Switzerland. "I had a fabulous time exploring, learning, and meeting new people," she says. 
Grace says that after studying abroad, she's less hesitant to try new things. Her confidence and sense of adventure has also been shaped through her experiences as a math major.  She's been continually encouraged by her professors and fellow students to explore possibilities in life, whether she's problem solving on a group assignment or discerning her future career path.
"We do a lot of team work in the math department and thanks to this I can communicate my ideas to others and work efficiently in a group setting," says Grace. "The department is so open and encourages questions, so that I have no problem asking questions of professors or peers when I don't understand something." She says that may seem like a small things to some, but it is important "to be able to communicate well and understand that not understanding isn't a bad thing." 
Grace will go on to pursue a PhD in mathematics after graduation in May. But this math major turned Francophile is taking things step-by-step. "After that, who knows? Maybe I'll be a professor," she says. No doubt she'll inspire future math students to consider all the possibilities open to them too.