Postcard from Poland
Postcard from Poland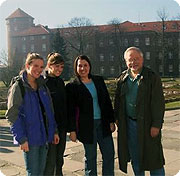 Not many can call Poland's Minister of Defense, Boguslaw Winid, a personal friend. History professor David Stefancic can. Stefancic is one of the most knowledgeable and dedicated historians of the Polish military in the United States today.
Stefancic began teaching at Saint Mary's in 1991. He received his BA from the University of Wisconsin-Stevens Point, MA from Marquette University, and PhD from the University of Wisconsin-Milwaukee. His publications include Robotnik, a history of the Polish labor movement, and Armies in Exile: The Polish Struggle for Nation and Nationalism.
Stefancic is currently director of the Saint Mary's European Summer Study Program, which has been in existence for over 32 years. In 1998, he created the Poland to Prague program, a bi-annual spring break experience that introduces students to the history and culture of Central Europe. "Since my area of specialization is Polish history, I thought it would be nice to show off all the places I know and love," says Stefancic, who first visited Europe in 1974 as a student and has returned 14 times since. "In Krakow, I always take students to the oldest pub in the world dating back to 1364."
Most recently, students on the spring tour had the opportunity to visit South Bend's sister city Czestochowa, Poland, and meet with Polish students from AHG University in Krakow. "Many of the students traded e-mails and are keeping in touch," says Stefancic. Students also spoke with the assistant to Poland's Minister of Defense and listened to presentations by Polish historians. And they visited Auschwitz, the infamous World War II concentration camp.
"As a Polish-American, I felt it was important to go back to my roots and learn as much as I could about my heritage and where my ancestors came from," says Monica Mastrocco, a junior who just returned from the program. "For me, the spring tour was very special and hit close to home. I now have a better understanding of what it means to come from Polish descent."
Stefancic says that to study in Europe on either program is to be surrounded with history. "You are walking in the same steps as Napoleon and Louis XIV. You are sitting in the same seats as the students of Copernicus in Krakow. Some may argue with me, but I think history is the basis for all other disciplines."
—Amanda Goetz '08