Questions and Answers
Questions and Answers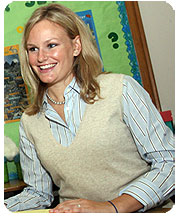 When choosing a major, many students let recent events and interests inform their decision. The educational and professional path of Saint Mary's senior Kayla Rogers was decided early—four months before she was even born.
Kayla's father, a hemophiliac, contracted AIDS through his medicine when Kayla's mother was only five months pregnant with her. He eventually succumbed to the virus when Kayla was barely two years old. Although her family never spoke of the ordeal during her childhood, Kayla says that medical matters have intrigued her ever since. This fascination led her to enroll in the nursing program at Saint Mary's.
Although she has since traded nursing for a communication studies major, Kayla says she keeps current on medical issues through her minors in biology and sociology. "I know it's a strange combination, but it's this diverse combination that opened my eyes to a world of issues, and gave me the confidence and channels to pursue them."
During her junior year, Kayla made a bold phone call to the doctor who treated her father's hemophilia, seeking responses to a lifetime of unanswered questions. After the conversation, she found herself with answers—and the offer of a summer internship at the National Hemophiliac Foundation.
During her internship, Kayla was responsible for fundraising for the Foundation's Western Pennsylvania Chapter. She worked with many men and women who had ties to hemophilia similar to her own. "I learned how to be an activist for hemophilia—I knew it was meant to be," she says. "But I also knew I wasn't finished."
Since then, Kayla wrote her senior comprehensive project on "Hemophiliacs, AIDS, and Societal Emblems." She also published an article in a hemophilia magazine about her research and experience. And she's not stopping there—when her studies are done, she plans on returning to the medical field, possibly working for a non-profit organization.
"People ask me what I want to do after graduation," she says, "and I tell them that I want to save the world." She laughs, but you get the feeling that she just might.
–Emily Lavelle '07