Ready - Okay!
Ready - Okay!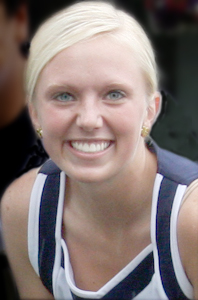 Junior Stephanie Strasser has something to shout about – this is her first year as a University of Notre Dame cheerleader. "When I found out that I had been selected to be on the team, I was ecstatic! Being a Notre Dame cheerleader is truly a dream come true for me and I am honored to represent Saint Mary's on the squad," says Strasser. Her first event was the 2008 Blue and Gold football game. In addition to cheering for football, she'll also cheer for the Notre Dame women's basketball team, volleyball, the men and women's soccer teams, and at pep rallies.
Strasser is no stranger to daily practices and workouts. As a cheerleader in junior high and high school, she participated in competitive cheerleading. Originally from Stillwater, Okla., Strasser's family now lives in Mishawaka. "My family has always been a part of the Notre Dame/Saint Mary's community, so I grew up loving both Notre Dame and Saint Mary's," says Strasser. "When it was time to pick a college, I knew exactly where I wanted to go. Saint Mary's provided me the opportunity to attend a small but prestigious college, renowned for its education program."
With a major in elementary education and a certificate in special education: mild interventions, Strasser's post-graduation plan includes working as a elementary school teacher while obtaining her master's degree in education. When it comes to giving credit to those who are helping her reach her goal, Strasser spreads it around. "The entire education department at Saint Mary's has been instrumental in solidifying my decision to become a teacher. They truly care about their students and I know if I ever needed anything, they would all be happy to help."
Strasser's teaching preparation extends beyond the classroom – she participated in the College Academic Tutoring (CAT) program, tutoring kindergarten and first grade students; she is a member of the Education Club; and she spent a summer working as a teacher's assistant at the Early Childhood Development Center (ECDC) at the University of Notre Dame, working with children 2-9 years old. "It was a great opportunity that allowed me to get hands-on experience in a classroom setting," says Strasser.
Between the classroom and the sidelines, Strasser is taking advantage of all that Saint Mary's has to offer. "The opportunity to attend a smaller college provides the ability to have more one-on-one interactions with the faculty. Also, the relationship between Saint Mary's and Notre Dame provides additional experiences that only a larger university can give. It's the best of both worlds!"