Ready, Set, Go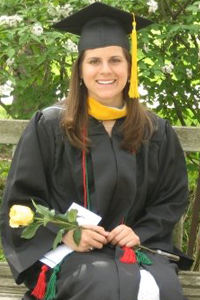 Graduate Alexandra (Alex) Tulisiak '09 says she chose Saint Mary's because she knew that she would have an amazing experience and get an excellent education. Alex accomplished both, through the many opportunities she had to be involved in campus life and in the community, and through the small class-sizes and interaction with professors who care. "I love the small classes and individual attention you receive from professors," says the native of Medina, Ohio. "I knew that I could go to them for help whenever I needed it and I knew that they would do everything in their power to help me."
The former biology major says her favorite class was U.S. History Since 1865 because, "the professor kept us engaged in the topics we were discussing, and his choice of supplementary materials, such as documentaries and books, really helped to emphasize certain events in history." She also enjoyed working with her senior comprehensive advisor, Dr. Richard Jensen, particularly in her field botany class. "Professor Jensen would take our class outside for lab and we would choose random plants and use our identification skills to determine what the plant was. It was always a lot of fun," says Alex.
Alex kept busy throughout her college career, participating in the biology club, photography club, Italian club, Peer Ministry , Campus Ministry , Bible study, Read to a Child volunteer, and as a volunteer at St. Joseph's Regional Medical Center. She also worked on the yearbook and was a resident assistant.
In addition to studying abroad in Rome during the spring of 2007, Alex participated in the Appalachia Seminar at the University of Notre Dame in the fall of 2007. "I went to West Virginia and had a wonderful opportunity helping the people who live there," describes Alex. "It was amazing to interact with them and work together to make life easier and better for them."
Alex will be attending DePaul University for the master's entry to nursing practice program. "I will be in the program for two years and then I will have a master's in nursing degree, and hopefully work for a few years before deciding if I want to continue on to a higher degree."