Ready, Set, Teach!
Ready, Set, Teach!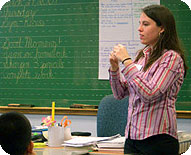 Watching Kristin Heath lead a group of third graders in a hands-on science experiment, you forget that she's still a student herself. Kristin is a senior education major at Saint Mary's College, but to the 20 kids in her class at Madison Primary Center in downtown South Bend, she is their teacher, "Miss Heath." And Miss Heath has their full attention as she introduces a unit on sound.
With her liberal arts background, she knows that the best way to launch a science lesson is with—what else?—a poem on the topic. She confidently explains concepts like vibration and pitch as she helps them blow air through drinking straws to create sound. She moves through the material efficiently, keeping order while allowing fun. "I know it's hard but keep practicing," she tells her students, offering encouragement.
Saint Mary's education students have repeated opportunities to gain teaching experience before they enter their profession. Junior year, they observe teachers in real classroom settings and begin to plan lessons and help students. As seniors, they student teach at one school for the entire year. By second semester, Kristin says, "it's just like you're a regular teacher. You come in before the kids get here and leave after they leave."
"I have some friends who are education majors at other colleges, and I realize that we have a very unique placement setting," she adds. "The fact that you are in the same classroom for an entire year is, I think, priceless."
For Kristin, the education department's emphasis on differentiated instruction (that is, using a variety of teaching strategies to meet the diverse needs of learners) has boosted her effectiveness. "I've always been in inner-city public schools. I like the challenge," she says. "But not every student is on the same page, and I think that one of my strong points is being able to reach a lot of different people in a lot of different ways."
After graduation, Kristin will move to Boston to teach second grade at an inner-city school through the Urban Catholic Teacher Corps, earning a master's degree in education at the same time.
What qualities will make her a good teacher? "She already is one," says Diana Torok, who supervised Kristin this year. "She's professional, she's caring, she's organized, and she's creative. She's ready to have her own classroom."