Reason for the Season
Reason for the Season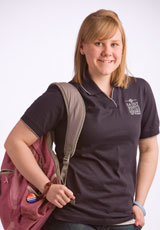 Winter Break isn't a signal for Alicia Wilkins '11 to slow down. In addition to spending time with her family, the elementary education major and Mishawaka, Ind., native will continue to tutor a second grade student as part of the College Academy of Tutoring (CAT) program at Saint Mary's. Alicia is a teacher's assistant through this program in which Saint Mary's students assist at-risk students in the South Bend area. Alicia volunteers at Lincoln Primary Center, where she helps with activities in a second grade classroom. "I love being involved in the CAT program for two reasons: I'm serving as a role model to young children, and I am getting tons of experience in the classroom," Alicia explains.
It won't be all work and no play for Alicia over the holiday break. She will be celebrating Christmas with her family in their traditional way. "I am really looking forward to driving through Winding Brook with my family and looking at all of the beautiful Christmas lights," Alicia says of the local neighborhood that features lighted and decorated homes. She's also looking forward to going back to her home church because, "it's so beautiful in the church and the services are wonderful."
In addition to the CAT Program, Alicia does other volunteering through the Office for Civic and Social Engagement (OCSE) and names director and assistant director Carrie Call and Olivia Barzydlo Critchlow, respectively, as being influential in her college career. "These two women definitely make a difference in our community and I hope to follow in their footsteps," Alicia says.
If that's the case, she's already on the right path. Alicia plans to look into Notre Dame's Alliance for Catholic Education (ACE) program after graduation. ACE is a two-year service program for college graduates who serve as full-time teachers in underfunded schools. "I really want to help underprivileged children succeed," says Alicia, who wants to teach in a second grade classroom. She'll be ready to take on that challenge by the time she graduates from Saint Mary's. "All of my education classes are giving me a chance to create my future classroom, to turn it into an inviting and supportive place for all children to learn," Alicia says. "The education department at Saint Mary's is excellent and I know that I will be prepared to teach after graduation."