Reporter blossoms at Saint Mary's
Reporter Blossoms at Saint Mary's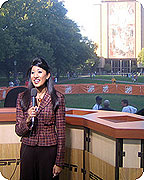 Junior Colleen Ferreira surprised everyone when she sat in the stands with Notre Dame football fans at the Sugar Bowl on Jan. 3. The avid Irish fan is usually on the other side of the microphone. At the ripe old age of 21, she is already a familiar face on television.
"This was the first game in two years that I did not film before and during the game," Colleen said. "To be honest, I really missed the reporting side. Being a student and enjoying the game with all my friends was a treat, but standing on the field reporting is just as exciting."
Broadcast journalism is Colleen's passion. A communication studies major at Saint Mary's, in her sophomore year she crashed an audition calling for a Notre Dame female who loved Notre Dame sports. She was soon thrilled to hear that she'd been named the new co-host of Irish Weekly —a show first broadcast on cable but now syndicated nationwide through ABC, NBC, and CBS.
Last summer, Colleen landed an internship with The Early Show at CBS News in New York, rubbing elbows with Hannah Storm and the new host of the evening news, Katie Couric. She received career advice from Bob Schieffer and co-hosted a two-minute segment about the possible extinction of the penny. Though produced by interns, she said, "CBS executives thought it was good enough to air on network television."
"Saint Mary's has not only taught me how to be a television reporter," she said. "The faculty have taught me how to handle myself in tough situations and overall, to be a kind, trustworthy woman ... the type of woman that any company would want working for them."
Colleen's career has continued to blossom. The producers of Miracle on South Michigan Street asked her to take Regis Philbin's spot in the annual Christmas television show, which aired last month.
Colleen says she is confident that her time at Saint Mary's has made her a strong woman who knows how to handle difficult situations. "Saint Mary's has not only taught me how to be a television reporter," she said. "The faculty have taught me how to handle myself in tough situations and overall, to be a kind, trustworthy woman ... the type of woman that any company would want working for them."
"My professors care about my work as a student and my work in my career. They honestly take interest in what I do. Saint Mary's professors appreciate their students' hard work, and that makes me work harder. I know I will leave here with confidence and values."