Rising Star
Rising Star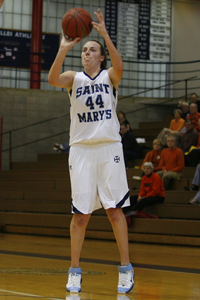 When alumna Nicole Beier '09 graduated from Saint Mary's, she left at the top of her game. The Fort Wayne native played both soccer and basketball, and was the recipient of the 2009 Competitive Spirit Award. The award is presented in recognition of demonstrated passion and love for the sport through work ethic, desire to succeed, commitment, and dedication. Nicole showed this initiative in both sports. "Over these past four years, Nicole has made such a positive impact on our athletic department through not only her talent for sport, but also in how she so beautifully modeled team work, dedication, and perseverance when faced with adversity," says Athletic Director Julie Schroeder-Biek.
Nicole played for the Belles soccer team during the fall of her senior year, even though she hadn't played since high school. "Many days she could be seen arriving early to training or staying well beyond the conclusion of practices, honing her skills," says soccer coach Ryan Crabbe. "Nicole may not have logged the most minutes or started every game—however, her love of sport and competition were apparent by the way she trained and prepared herself day in and day out."
Nicole excelled in basketball, leading her team with a three-point shooting percentage and being named one of the top 12 players when she was awarded 2nd team MIAA honors. These accolades came even after being sidelined 17 games into the season, due to a foot injury. "Despite this, she never missed a practice or game and she continued to find ways to contribute from the sidelines," says basketball coach Jenn Henley.
Nicole chose Saint Mary's because she wanted to go to a college close to home. "And when I visited here I fell in love with the place. The campus is absolutely beautiful," says Nicole. Nicole also came to love the Saint Mary's community as a family. "I have built many great relationships over the past four years here."
In addition to her sports endeavors, Nicole also participated in biology club, anthropology club, the student-athlete advisory committee (SAAC) , and she coached a youth basketball team every summer. "I have younger siblings and I have always enjoyed sharing my skills and love for basketball with younger people," says Nicole.
The biology major says her favorite class was ornithology with Professor Doris Watt. "I loved the field trips that we took," says Nicole. "Thanks to this class, I can't go outside without stopping to listen to the birds."
While Nicole plans to be a lab technician in a cancer research lab, it's her past at Saint Mary's that contributes to her future success. "I am confident that as Nicole opens this next chapter of her life after graduation, she will continue to be a positive force in the lives of those fortunate enough to work with her," says Schroeder-Biek.