Rock the Vote
Rock the Vote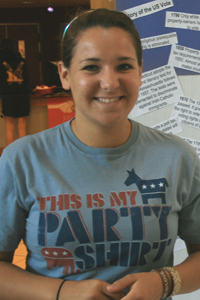 Junior Lauren Kominkiewicz had on her "party shirt" when she turned out for Saint Mary's Rock the Vote festival . As the junior representative for the political science club, she was on hand in the student center with other organizations, encouraging students, faculty, and staff to get out and vote.
"We want to get people informed about voting in general," says Kominkiewicz. "No matter what party you are, we want to get people out there having their voices heard." Kominkiewicz is majoring in social work with a minor in political science . She is on the student academic committee for social work, and she is also on the board for Rock the Vote. Her political involvement stems from her concern that people have lost respect for the government due to a feeling of being overlooked. "We want to get that [respect] back."
Kominkiewicz is a native of South Bend, and her first experience with Saint Mary's was with the Fine Arts camps for middle school-aged children. "Ever since then I knew I was a Saint Mary's woman," says Kominkiewicz. After graduation, she plans to pursue a master's degree in social work, and then she'll head to the Peace Corps for a two-year stint. But for now she's focused on her passion for politics.
"I love the climate. I love that people care. I like to debate with people a lot and I like to hear different points of view," says Kominkiewicz. "I think that's my favorite part of politics – the people that are involved in it."