Rome Ready
Rome Ready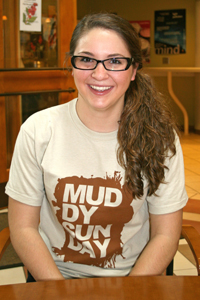 From the beautiful campus and welcoming atmosphere to the one-on-one with professors and small-class sizes: these are reasons given by business major Lindsey Stuss '12, and many other students for choosing Saint Mary's. And then there's the promise of self-discovery, adventure, and learning, all wrapped up in one enticing program—study abroad.
"I really wanted to study abroad and after seeing the programs that they offered, I knew I wanted to take Italian and go to Rome," says Lindsey. "I cannot wait to go. I'm so excited!" The native of Milford, Mich., will have to wait one more semester as she prepares to go to Rome in the spring of 2010. Lindsey sees this as an opportunity to improve her Italian language skills, explore a new culture, and meet new friends. She's already working on the language part, with Introduction to Italian as her favorite class and Professor Peter Checca as someone who has made a major impact on her.
"Going into Saint Mary's I had never taken Italian before, but after having a class and weekly pronunciation practices with him [Professor Checca], I feel more confident and comfortable with the language," says Lindsey. "He is always willing to help me out inside the class, as well as at his office hours. He really encourages me to do well in his class, and I believe his continued support is helping me to be successful."
Lindsey isn't sitting around waiting for time to pass before she boards a plane to Italy. She's busy this fall as a member of the Belles Varsity Volleyball Team, competing on the court, and participating in service activities off the court. "Every fall, we help with freshman move-in days, as well as working at the Convent throughout the year. I have taken part in many activities with the Sisters, which include Bingo, decorating the Convent, and visiting frequently." Lindsey also hopes to get involved with Saint Mary's College Republicans. "I believe this will allow me to get in touch with other students who share similar beliefs, as well as preparing me for a career in law," says Lindsey who is considering a future in either real estate or environmental law.
From the tree-lined beauty of the campus to the historic roads of Rome, Lindsey's time at Saint Mary's is paving the way to a rewarding future. "I believe the education I will receive from Saint Mary's College will allow me to achieve my goals and succeed in my future career."