Run, Megan, Run
Run, Megan, Run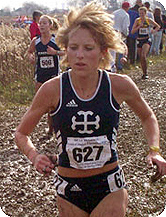 It was a season of "firsts" for Saint Mary's College cross-country runner Megan Gray, a junior from New Carlisle, Indiana. She was the first harrier in College history to earn first-team honors in the Michigan Intercollegiate Athletic Association—the nation's oldest athletic conference. She was the first to collect an individual title when she won the Manchester Invitational with a time of 18:42 in the 5K.
Most remarkably, she was the first runner ever to represent Saint Mary's at the NCAA cross-country championships, held in November. Braving a wet, muddy course, she ran the 6K event in 25:14. That time earned her 133 rd place in a field of 279 of the nation's best Division III runners.
For Gray, just competing was a personal triumph. "This season has meant so much to me," she says. "I definitely didn't think I was going to place so well at regionals and make it to nationals." After studying abroad on the Saint Mary's Rome program last year (taking memorable Sunday runs around the Coliseum, the Trevi Fountain, and the Vatican) she overcame a knee injury and other health problems to get up to speed this fall.

Combining a communications studies major with minors in public relations and intercultural studies , Gray is also a resident advisor in Holy Cross Hall. She contributes weekly stories to her hometown newspaper, the LaPorte County Herald-Argus. And she juggles all these activities with running.
Balancing sports and schoolwork is all about time management, she says. "If I have three hours to write a paper, I have to get it done in that amount of time. That helps keep you on task, and I think it's true of a lot of student-athletes—they just stay on top of their academics."
Gray says unflagging support from her coaches and teammates was another factor in her success: "Cross country is a team sport. Without all the girls there to help train every day at practice, it wouldn't be the same." When the regular season ended and Gray was the only one preparing for nationals, her teammates trained alongside her every day.
A big group went to the NCAAs to cheer her on. "I couldn't have done it without them. They were there to pace me and push me," says Gray. "I think that definitely says something about Saint Mary's women. They are able to handle a million different things at once … and they go the extra mile."