Rx for Success: Write
Rx for Success: Write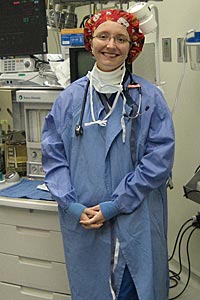 If it had been up to Andrea Guyon '99, she would have graduated from a different school. But in an effort to please her dad, who was very interested in her attending Saint Mary's, Guyon acquiesced and visited Saint Mary's overnight. That was all it took.
"I absolutely loved the overnight visit. I realized what a unique place Saint Mary's was," recalls Guyon. Impressed with the "absolutely beautiful" campus, Guyon looked beyond the bricks and mortar. "The people there were genuinely happy and close-knit. Everyone seemed to know everyone. They seemed to care about each other and the campus."
While Guyon noted that all of her professors in the chemistry department did a wonderful job interacting with the students as well as serving as mentors in various ways, it was her advisor Sister Kathleen M. Antol who stood out in a different way. "You could never imagine that a [sister] could be so much fun."
Sister Kathleen remembers Guyon as well: "Andrea was one of those special students with whom I always knew I would have a connection. It was always a joy when she stopped by my office. She gave her best to her classes, to her teaching assistantship in the chemistry department, to her service to the College on the Student Judicial Board, and to her friends and family. She accomplished the best of all she attempted when she was a student at Saint Mary's."
Guyon graduated magna cum laude with a major in chemistry and a minor in biology. She went on to the Southern Illinois University School of Medicine before beginning her preliminary pediatric internship in the Department of Pediatrics at the Medical College of Wisconsin. From 2006-2007 she was the chief resident of the Department of Anesthesiology, also at the Medical College of Wisconsin. She is now finishing up the fifth year of her post-graduate residency as a Fellow in the Department of Pediatric Anesthesiology at the Medical College of Wisconsin.
Looking back, Guyon credits her Saint Mary's liberal arts education with helping her in her medical profession. "I think the most important thing about Saint Mary's is that no matter what discipline you choose whether it's science or art, your education is very well-rounded and there is a strong emphasis placed on writing. To be able to effectively write and not be intimidated by starting a project that involves a lot of writing is probably one of the best things I took away from Saint Mary's."