Saint Mary's Bound
Saint Mary's Bound
When it's right, you know it.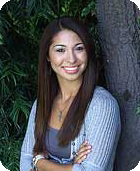 For two high school seniors in southern California, Saint Mary's has felt like the right choice from the beginning of their college search. They applied for admission through the College's early decision program and learned of their acceptance just before the holidays.
Now, they're making plans to join the Class of 2011 in the fall.
"I really wanted a small environment," says Sammy Bello, who was born and raised in Lakewood, California and attends an all-girls' Catholic high school there. Though nervous before her first visit to campus, she says it was easy to find her way around Saint Mary's and to imagine herself as a student. Now, she says, "I'm very excited. Leaving friends and family will be hard, but I knew that going away was something I had to do."
Drawn to Saint Mary's for its academic reputation, Sammy hopes to major in communication studies . During high school, she was active in extracurricular activities including cheerleading. Once on campus she plans to try out for the Saint Mary's and Notre Dame cheer squads.
*******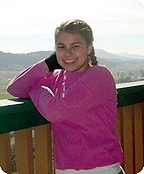 Lena Anjo, who attends a co-ed, public high school in San Diego, first heard about Saint Mary's at a college fair four years ago. "At first I thought, 'Oh, an all-girls' school—that's kind of interesting'" she says. The more she learned about Saint Mary's, the more she felt it would be an "empowering" environment with a close community and one-on-one attention from faculty. Those factors seemed especially important to Lena, who will be the first person in her family to attend college.
With her acceptance letter, Lena got news that she had earned a merit scholarship in recognition of her academic accomplishments. She took challenging courses in high school, and is considering majors in communication studies and English writing . A clarinet player, she plans to arrive early in the fall to audition for the Notre Dame Marching Band, which includes many Saint Mary's students.
The campus will be familiar to Lena, who has visited annually since her sophomore year. "I've wanted to go to Saint Mary's for four years," she says. "From the beginning I just felt right at home. Even visiting, I felt like I was part of the school. I thought, 'this is the place for me.' "