Saint Mary's In the House
Saint Mary's In the House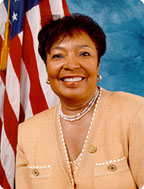 Eddie Bernice Johnson is one of the shining stars of Texas. Winning 80 percent of the vote in a landslide victory, she was just elected to her eighth term as U.S. Representative from the 30 th Congressional district, which includes central Dallas.
A trailblazing Democrat, Johnson became the first woman and the first African-American to represent the Dallas area in Congress when she was elected in 1992. She served as chair of the influential Congressional Black Caucus during the 107th Congress and was named one of the nation's ten most powerful black women by Ebony magazine in 2001.
Johnson's career in public service began when she was elected to the Texas House of Representatives in 1972. She made state history by becoming the first woman legislator to chair a major House committee, the Labor Committee. Johnson's reputation as a hard-working negotiator and an advocate for workers, children, and families led President Jimmy Carter to appoint her as regional director of the Department of Health, Education, and Welfare in 1977. Next, in 1986, she was elected a Texas state senator and in 1992, to the U.S. House of Representatives.

But there is more to Eddie Bernice Johnson than a stellar political résumé.
Take, for instance, her education. This influential leader attended Saint Mary's College, taking nursing classes on her way to eventually becoming chief psychiatric nurse at Dallas' Veterans Administration Hospital.
Johnson remembers her time at Saint Mary's with great fondness and says: "Saint Mary's is a special place of community, faith, and excellence in education. I know first-hand that providing women with a choice in education can give them a rare competitive edge. I am proud to be a part of an exceptional nursing program and to recall my own ties to this extraordinary College."