Search and You Shall Find
Search and You Shall Find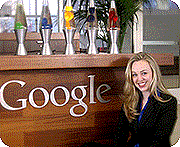 It's been less than six years since Jennifer Bradburn graduated from Saint Mary's, but a lot has changed since then. "Students were just starting to use e-mail when I began college. No one had a cell phone, and Internet search engines didn't even exist," marvels the woman who now works at Google, the world's largest search engine.
"The power of universal access to so much organized information—eight billion sites—is astounding and exciting," says Jennifer. "It has impacted society in so many important ways."
Jennifer, who is now an agency training specialist at Google headquarters in Mountain View, California, started her career in the company's Chicago office. "They were growing a small office there that handled Internet advertising sales for Midwest-based clients and were looking for an entry-level coordinator. I almost didn't take the interview…I had never heard of Google before and wasn't sure a dot-com would be a good career choice, given that the Silicon Valley bubble had just burst," explains Jennifer.
"The interview process was intense and took months. I believe my educational background and internships (she had three) are what helped me persevere," she says. When Jennifer landed her job in early 2002, she was the first entry-level candidate Google hired—at the time, the company only had about 300 employees and was considered a start-up. "It was a leap of faith," she remembers.
After working in regional sales, Jennifer joined a specialized team that handled relationships with Google's largest national automotive clients, including GM, Toyota, and Ford. After three years in Chicago, she relocated to California, fulfilling her goal of working in the Silicon Valley.
She says her communication studies classes at Saint Mary's—especially with professors John Pauley, Vince Berdayes and Linda Berdayes—gave her unique preparation to succeed. "Having small classes with all women really helped me voice my opinion and develop a confidence and strength I didn't always know I had."