Serving Up Leadership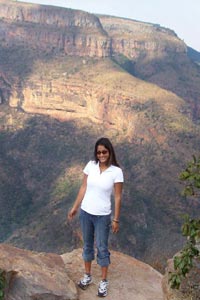 For Sarita Fritzler, diversity starts at home. Born in India and adopted by Caucasian parents, Fritzler has an older sister from Nepal and a younger sister from India. She spent her childhood living abroad in India, Egypt, and Ghana. Her parents live in Indonesia. And if she has her way, she'll be close to them after she graduates this year. Her career goal: to work for an international nongovernmental organization (INGO) doing some form of humanitarian work. Her life has exposed her to people of diverse cultures. Her education at Saint Mary's has prepared her to take the next step.
Fritzler is a political science major with minors in women studies and intercultural studies . She's a member of the inaugural class of students receiving a Certificate in Intercultural Leadership from the Center for Women's InterCultural Leadership (CWIL ). She is actively involved in student affairs including the student diversity board, and this year as the chief of staff on the Board of Governance. She is also an international advisory board member (one of only two students) for CWIL, as well as working as a CWIL assistant. Her civic involvement is not limited to the campus; she and Bonnie Bazata, Associate Director of CWIL, in partnership with the Board of Governance, initiated the Leadership Lunch series. The luncheon speakers include successful woman leaders from the Michiana area, and in some cases, international leaders. Fritzler noted that the idea of the luncheons matched the college's focus on its core value of community. "It's been perfect to bridge that community and we've learned so much from these women and it's been great to have them here," explains Fritzler.
When it comes to mentors, Fritzler is quick to name Bazata. "I think my biggest supporter maybe would be Bonnie. Bonnie's always pushing us to do the best we can do." Fritzler also noted the tremendous support she has received from her political science faculty, women's studies and intercultural studies professors. "All of the professors, they've been supportive," comments Fritzler, who then adds, "And then of course my mom and dad."