She's Got Heart - Symone Pompey '12
She's Got Heart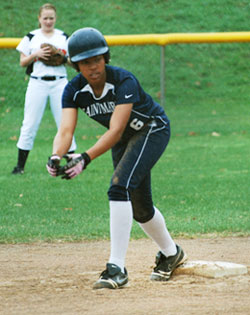 Sophomore Symone Pompey is batting a thousand at Saint Mary's. She is part of the varsity Belles softball team pitching line-up. She's got ten years of playing softball under her belt and her love for the sport has continued to grow at Saint Mary's.

Long-time family friend and mentor, Julie Schroeder-Biek '88, Saint Mary's director of athletics and recreation, convinced Symone to apply to the College. Symone was glad she took Schroder-Biek's advice. "I don't know if I would have been this happy and successful at any other school," she says.

At Saint Mary's, Symone has mastered the art of balancing athletics and academics. She sacrifices a lot of her free time for softball, but says it's worth it to play the sport she loves and to be part of the Belles team. Through the hard work and extensive practice schedule, Symone says, "[the players] have developed friendships that extend well beyond the softball field."

As a social work major and minor in sociology, the Cassopolis, Mich., native is a well-rounded student-athlete. When she's not studying or practicing, Symone makes time for service work. She volunteers with Living Alternatives for the Developmentally Disabled (LADD), the local YWCA, and tutors children at Our Lady of Hungary Catholic School and Parish. "I love learning about individuals from different walks of life," she says, and her volunteer work has allowed her to do just that. 

After graduation, Symone's dream is to attend the Military Social Work and Veteran Services Program at the University of South Carolina. From there, she plans to work with soldiers returning home from war. With friends in the Military, Symone is particularly attuned to the experiences of servicemen and women. "It upsets me to think that men and women who put their lives on the line for this country may not receive services necessary to help them cope with life at home," she says. Symone plans to help provide resources for those suffering from post-traumatic stress disorder.

For Symone, the key to choosing a fulfilling career path was finding something she is passionate about and diving in. "When you can find something that can make you feel [passionate], that is when you have found what you are called to do," she says.