Silver Lining
Silver Lining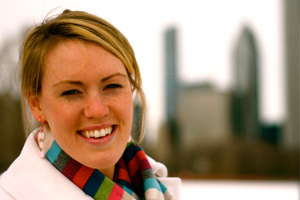 Mary McDougall '10 came about her 2008 internship at the Washington Post in an unusual way. After arriving for what she thought would be a dream internship at a marketing firm, the East coast native was shocked to find out that it was not exactly what had been advertised. Mary says that the firm was more of a scam than anything else. "Think handing out perfume samples and other knick knacks in malls, and long hours in unknown territory—not for me!" she says. After getting in touch with some connections through the Advertising Club for the city of Washington D.C., Mary landed the Washington Post internship. "I had an incredible time," she exclaims.
This past summer, Mary served as an intern for Senator John Pippy from Pittsburgh, Penn. She was given the opportunity to really be involved. Instead of just filing papers and getting coffee, Mary says, "They gave me free reign to jumpstart and develop outreach tactics for the senator." She was responsible for creating a Twitter page, writing press releases, attending meetings, and organizing a TV segment for the senator about the dangers of underage drinking. She was also able to do some media and public relations work.
Here at Saint Mary's, Mary is a communication studies major and a double minor in public relations and business administration. She chose communication study because she "wanted to be involved in the softer side of business," she says. "Communications gave me room to be creative, intellectually challenged and allowed me to think concretely and abstractly." The major has helped her strengthen her interpersonal communication and professional skills and gave her confidence while giving her the opportunity to learn about the public relations field and communications.
Mary thanks Saint Mary's for giving her the skills she needed to succeed as an intern at both internships. "I am thankful that I went to Saint Mary's College because it has given me the confidence, positive attitude, and knowledge necessary to succeed in any field in communications." After graduating this spring, She hopes to go into health related public relations or in any public relations field. She credits the College for her current successes and future ones, saying, "Saint Mary's College has shaped me into the woman and worker that I am today!"
—Lauren DeBruce '11