Something Super
Something Super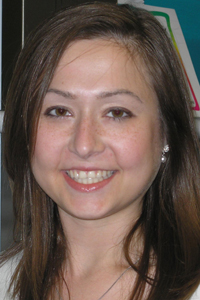 Amanda Goetz '08 has always known she wanted to work in the healthcare and medical industry. Not a fan of math or science, she found a way to use her other skills – writing and communications – and today she is the Communications Program Manager at SuperSibs! a national nonprofit organization with headquarters in Rolling Meadows, Ill.
The organization "helps children redefine the 'cancer sibling' experience by providing needed support services and by helping to draw out the greater and important lessons that may benefit these children later in their own lives," says Goetz. Goetz is responsible for the creation, production and implementation of program deliverables. She also manages the Web site, and public relations initiatives. "Working in communications and public relations for a healthcare organization allows me to do what I love –write –and work in the industry I am passionate about –healthcare," says Goetz.
With a major in English writing and a minor in theatre performance, Goetz appeared in a number of Saint Mary's productions including the all female cast of Macbeth. "We had professional stage combat lessons that taught me so much. It was pretty amazing to see all these young women fighting with swords and daggers on stage," says Goetz. She credits her directors, professors Mark Abram-Copenhaver and Katie Sullivan for pushing her to "be better on stage and off."
Goetz kept busy at Saint Mary's, working all four years at the circulation desk of the library. During her junior year, she was the theater department representative to the Student Academic Council (SAC). She had four internships, including a full-time public relations summer internship with the Silverman Group in Chicago, prior to her junior year. She was also an intern during her junior year for the public relations director in the Saint Mary's Marketing and Communications department. During her senior year she worked as a full-time marketing communications intern with Red Chicago Marketing in Chicago.
Originally from Orland Park, Ill., Goetz was set to attend Northwestern University, but she wanted something that fit her better. "I had visited Saint Mary's college before when I took a tour of the University of Notre Dame in high school, and it always stuck out in my mind. I thought it was a great fit for what I wanted: prestigious, beautiful, and small." Goetz took advantage of the Saint Mary's/Notre Dame relationship, enjoying football games, as well as an internship at Notre Dame Law School.
When talking about the unique opportunities provided by Saint Mary's, Goetz looks to her internships, and her relationships with her professors. "I know that if I ever need advice or feedback on my writing, I can email or call any of my former professors and they will know me and be happy to help. That is just the type of people at Saint Mary's College – they truly care about you."