Speaking Up
Speaking Up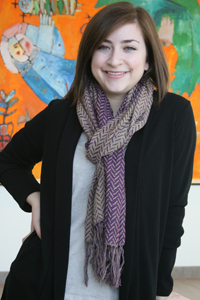 While some students are still enjoying their winter break, Catherine Cleary '12 will be co-facilitating a conference on Women's Issues in Urban Environments, in Indianapolis during the first week of January. "I attended the conference provided for Saint Mary's women last spring break, and was recently asked to help out with this one," says Catherine. That trip was offered through the Office for Civic and Social Engagement (OSCE). Catherine's participation in this year's conference exemplifies what she considers to be the best part of being a Saint Mary's student: the community. "It is one that fosters the growth of every student and pushes us to reach our full potential," says Catherine.
The Fridley, Minn., native participated in an alternative break trip this past Thanksgiving when she volunteered at the Indianapolis Peace Institute in Indianapolis. In addition to participating in various volunteer activities, she helped package over 41,000 meals on Thanksgiving for individuals in need. "These trips have made me increasingly more aware of how fortunate and blessed I am to live the life that I do," says Catherine. "They reignite my passion for social justice and cause me to think critically about the world I live in."
Catherine is working on a student-designed major in women's studies, with a minor in Spanish. She is active on campus as well—as the vice president of the Future Women Doctor's club, a member of the College Democrats, a resident advisor (RA) in Le Mans Hall, and she is involved in Campus Ministry. She is also a teacher's assistant at a local primary center, through the College Academy of Tutoring (CAT) program.
"Currently I am helping put on a "Girl Power Workshop" at Coquillard Primary Center, a Title I school, to empower 3rd and 4th grade girls to think about and get interested in science," explains Catherine. "We are dissecting fish, planting seeds, and making volcanoes in an effort to promote interest in various fields of science to girls who might not normally have these opportunities."
Catherine credits professor Lily Hoang with helping her to embrace her feminist self. "She has caused me to think critically, take interest in what I am learning, and question societal norms," says Catherine. "Because of her I have decided to claim my education, not just receive it."
After graduation, Catherine is planning to study constitutional law. She is looking forward to a future in politics, a career for which she feels prepared. "Saint Mary's has not only provided me with an excellent education in the classroom, but also with a place to explore my passions. I have changed majors, taken a variety of classes, joined several clubs, taken service trips, and have not been denied the opportunity to learn at any step along the way."