Spiritual Quest
Spiritual Quest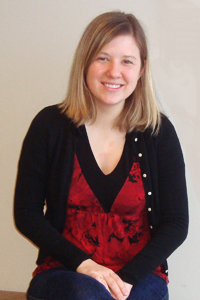 Imagine having dinner with your hero. Who would it be? For religious studies major Meghan Larsen '09, it's an easy question to answer: theologian Elizabeth Johnson. And instead of a what-if scenario, it became a reality for Larsen when she and Sarah King '09 were invited to attend a dinner with Johnson. The dinner was held in conjunction with the Center for Spirituality's (CFS) Quest Project Fall Lecture Series featuring Johnson's lecture, The Quest for the Living God. Other attendees included women theologians from various academic institutions attending the New Voices Seminar.
"I was honored that Dr. Kathleen Dolphin (CFS director) asked me if I would like to meet with Elizabeth Johnson," says Larsen. "She [Johnson] gives such hope to the future of the church and really tries to build many bridges between cultures, faith, traditions, and people."
Johnson's teachings are a part of Larsen's senior comprehensive, comparing Johnson's work, Friends of God and Prophet's, with theologian James Cone's work, The Spirituals and the Blues. "Both theologians show how many individuals continue to misinterpret certain individuals' lives and some theological concepts. They focus on what is called memory restoration, where they try to bring truth to ideas that have been misinterpreted throughout history," explains Larsen. "Johnson does this with the Communion of the Saints and Cone does this with black spirituals."
Larsen is originally from Coudersport, Pa., and has two older sisters who also attended Saint Mary's. She says she was determined not to follow in her sisters' footsteps, but found that Saint Mary's was the best fit for her. "I loved my sisters' friends and was excited to meet some of the same type of amazing individuals. I was also attracted to the small class size and personal attention from professors," says Larsen.
Larsen has a long list of favorite classes and professors, but she notes how professor Joe Incandela challenged her academically, and how professor Beth O'Connor fostered her love of psychology. She also speaks highly of her year-long study abroad experience in Rome where she found Father Mark Attard to be one of the most intelligent men she has ever met, yet one of the most humble. "I was sad when class was over every time," says Larsen.
Larsen rounds out her academic interests by volunteering for the Center for the Homeless, tutoring in the adult education room, and leading a poetry jam. She is also a student ambassador, a peer minister in Campus Ministry, and she is on the executive Council for Dance Marathon. She recently accepted a position with the Pacific Alliance for Catholic Education (PACE), a teaching-service program. "I will be receiving a master's degree over three summers from the University of Portland and teaching in Ogden, Utah for two years. I will be teaching high school students," says Larsen.
"I am ready to engage in the academic work of graduate level classes because Saint Mary's has challenged me academically," says Larsen. "Saint Mary's taught me how to use my gifts for the good of humanity and that is why I decided to teach."