Summer of Service
Summer of Service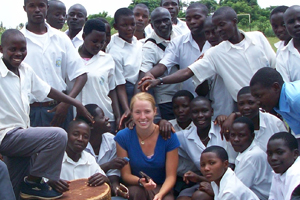 Fort Wayne native and senior Caitlin Brodmerkel didn't put her books away and head home for her summer break. Instead, she packed up and headed to Uganda where she spent over two months working with the Holy Cross Congregation. While in Uganda, she lived in the rural village of Kyarusozi, working with the Sisters of the Holy Cross at their health clinic. She also had the opportunity to teach health science at St. Joseph's Secondary School, a school run by the Brothers of Holy Cross. "It didn't take long for me to fall in love with the culture of rural western Uganda," says Brodmerkel. "The people are friendly and full of life, and their faith and spirits are moving. The children filled my days with such great joy. I quickly learned to appreciate the simplicities in life, and not take those for granted."
Brodmerkel worked in a clinic that was the only clinic for miles. Likewise, the school she taught in was the only secondary school for miles. "The students walk hours to receive the Catholic education offered," explains Brodmerkel. As a nursing major with a minor in biology , Brodmerkel came qualified to work both in the clinic and the school. She says that Saint Mary's helped prepare her for this experience through her nursing clinical, and science classes. "I was thankful for this tremendous education each day as I witnessed problems at the clinic, and in teaching health science to my students," says Brodmerkel.
Brodmerkel says Saint Mary's also gave her opportunities to experience diversity, working with local organizations like Sister Maura Brannick Health Center, St. Margaret's House, and Marquette Primary. She also participated in the University of Notre Dame's Appalachia service trip, and a Saint Mary's study abroad program in Ecuador. "These experiences have all been very important to me and have shaped who I am today," says Brodmerkel.
Brodmerkel is also active on campus; she is a member of Circle K (a service organization), the Student Nurses Association (SNA), and is the captain of "the greatest team on campus," Saint Mary's cross country team. She recently achieved a career best time in a 5K race.
Brodmerkel says she chose to come to Saint Mary's because she loved the small Catholic community that the College offers. She also appreciates the opportunity to run cross country, and attain a degree in nursing. Brodmerkel sums up the Saint Mary's experience: "The best part about being a student here has definitely been the people I have met and the learning opportunities I have had. Friends, classmates, professors, and staff are all a part of what makes this college amazing."
Oops! It seems that you do not have the most current version of the Adobe Flash Player.
Please click here
to download it.