Surrounded by Success
Surrounded by Success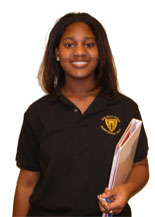 "I feel like I'm in the presence of success everywhere I go," says first-year student Ashley Williams, who came to Saint Mary's from Seton Academy, a Catholic high school just south of Chicago.
"When I found out that it Saint Mary's was #1 in the Midwest, I knew I had to apply," she adds, referring to the College's ranking in the U.S. News and World Report annual survey of American colleges and universities. "When my dad and I drove down the Avenue on Accepted Student's Day, I just knew…and I was amazed about the success rates of graduates, success being very important to me."
Williams has expanded her definition of success since arriving at Saint Mary's. When she enrolled, she was ready to major in Management Information Systems and minor in Actuarial Math . But her first semester of classes, which ran the gamut—English, Spanish, communications, social work, and math—made her fall for more than a few subjects. She credits her professors for awakening her interest in such diverse disciplines. "They're really passionate about what they're trying to teach us," says Williams. "You get that one-on-one relationship with your professors."
Outside the classroom, Williams serves on the Student Diversity Board and coordinating the upcoming Diverse Students' Leadership Conference, serving as the hospitality chair. She is also a member of La Fuerza and Sisters of Nefertiti, two active groups on campus. How does such a serious student maintain such an intensive extra-curricular schedule? "I give time to my academics first … It's not hard; it's just about managing your time," she says.
Williams says her next step in college will involve helping others to succeed. This summer she has an internship with Inroads, a nonprofit organization that places talented minority youth in business and industry and prepares them for community and corporate leadership. She earned the internship thanks, in part, to her high grade-point average and SAT score. After graduation, Ashley hopes to work for General Electric, where she interned.