Full Steam Ahead: Susan Head '14 Enjoys Dorm Life and Meaningful Connections
A poised, sundressed-clad young woman, Susan Head '14 appears the very essence of her goal of becoming an author of historical romance novels. With her firecracker personality, determination, and campus involvement, Susan's ability to pick up a pen and write a best-selling novel seems as if it will be effortless.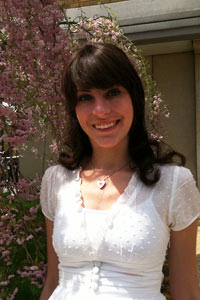 Delightful and engaging, Susan has the self-possession and "je ne sais quoi" that others admire. She is working on an English and history double major with a philosophy minor. One of her greatest interests includes reading, and it is not surprising that she wants a related career. Her love of history and English novels certainly will prepare her to become an author.
Within her first weeks on campus in her first year, Susan became involved with writing for The Observer, the joint newspaper between the University of Notre Dame and Saint Mary's College. She also is an avid member of Iron Sharpens Iron, a faith-based, student-run organization at Notre Dame that holds prayer meetings and performs service work among other activities. She enjoys this because of the outgoing people and outreach message involved. She also enjoys lindy-hopping at the Notre Dame Swing Club and helps raise funds for Notre Dame's chapter of Friends of the Orphans.
Susan's favorite memories of Saint Mary's thus far include the silly antics on campus with her closest friends, who include the entire fifth floor of McCandless Hall. "We've all created strong bonds among ourselves," said Susan, who is infamously known for never sleeping and being goofy all night. She calls it a "sleepover that never ends and a sisterhood that is formed instantly." The study carrels are one of her favorite features of McCandless, a dorm that consists of mostly first-year students.
Susan is from Buffalo, New York, and grew up loving the Notre Dame community. She is weighing the benefits of studying abroad with a summer program, but "cannot imagine giving up one semester at Saint Mary's." After spending the summer at home to catch up with family and friends, Susan will return to campus, this time in Le Mans Hall, to start the adventure again.
— Julie McGrail '12