Tailor Made
Tailor Made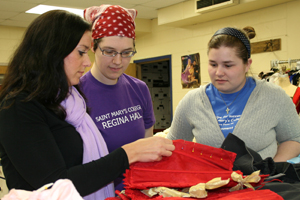 Melissa B. Bialko instructs Sarah Chidister '12 and
Michele Peterson '10If you take a costuming class taught by Melissa B. Bialko, you won't be playing "dress up." You'll learn a skill that can translate into a rewarding career. Bialko is a professional specialist working in the Saint Mary's Costume Shop. She teaches classes such as costume design, costume craft, make-up, and fabric manipulation, including dying, painting, and printing on fabric. She supervises interns, and designs the costumes (and sometimes the scenery) for two plays, an opera, a dance concert, and the Madrigal Dinner each year. She also advises seniors in the design-oriented portion of their comprehensive project process (senior comps).
Bialko's goal is to "instill historical and mechanical knowledge" in her students, while generating excitement about what they are doing. She also focuses on the professional delivery of the craft, expecting responsible and courteous demeanor from her students. "I believe the presentation of the self hugely affects the quality, or perceived quality, of work," says Bialko, who has an MFA in costume design from Ohio State University.
Bialko's undergraduate degree is in theatre, and she has experience working in professional and semi-professional theatre companies as a designer, a technician, and as a shop manager. Her vast experience also lends itself to her involvement in other areas. Every other year Bialko leads a study tour to New York City and she teaches on a European Summer Study Program , led by Professor Dave Stefancic. "This course relates to cultural arts specific to and originated in the countries we visit," explains Bialko.
Working in what she describes as a "master-of-all trades" field, Bialko admits to spending long hours preparing for productions. Yet she still relies on her real-world experience when giving advice to students involved in theatre.
"This is a field which requires a large number of hours dedicated to it. It is highly stressful, and you really have to love it to mentally survive. However, I tell my students that when all is said and done, it's jut a play," says Bialko. "Those involved in the field tend to think of the field as their life, not as part of their life. I tend to advise that we all take a step back and enjoy the other things life has to offer us."
Is there a chance that we'll see Bialko on stage sometime in the future? "I have never had an interest in being onstage or performing. I love and appreciate visual and general history, research, teaching, and craftsmanship. This field marries these areas extremely well," says Bialko. "And, in all honesty, pigs will fly before I could memorize the lines needed to fill the time of an average play."