Taking Care of Business
Taking Care Of Business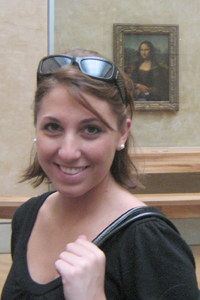 Junior Stephanie Sult had no problem filling her days during summer vacation. The business administration (BUAD) major packed her bags and did a whirlwind European Summer Tour, traveling to Paris, London, Edinburgh, and Dublin. She spent a week in each city, studying international business and European history. "This was an amazing experience and I would absolutely recommend it for other Saint Mary's students," says Sult.
When her plane landed in the States, Sult hit the ground running, starting a full- time internship at OfficeMax headquarters, where she worked in their Sales Effectiveness department. Sult, along with 30 other interns from around the country, worked on a summer long project which was presented to the CEO and other executives. "I learned so much from this internship and, as a sophomore, was lucky to have this opportunity."
How did Saint Mary's prepare her for such an all-encompassing summer? "I feel that Saint Mary's really pushes its students to have an abroad experience. I felt that I wouldn't have had the complete "Saint Mary's experience" if I had not gone abroad. And I am so happy I did," says Sult. She credits professor Dave Stefancic with his encouragement to study abroad. "As for my internship, I feel that the business department does a great job preparing its students for real world work experience. I felt very confident going into my internship, knowing I was with other Notre Dame students and students from prestigious colleges around the country."
Sult's BUAD major has a concentration in finance and marketing, and she says her favorite class is Buyer Behavior taught by professor Joyce Hicks. "This is one of my favorite classes because it brings real-world ideas into the classroom," says Sult. "Professor Hicks has made an incredible impression on me because she really cares about her students and what she teaches. She made me love my major even more."
Sult's future after graduation could go either way – she'll be testing out her business skills in the workforce or she may pursue a master's degree in business. Regardless of what she chooses, Sult will be making a well-informed decision thanks to the resources at the College. "Saint Mary's new Career Crossings center in Spes Unica Hall has many unique features and works hard to help students succeed in any career they are interested in," says Sult.