Teaching our Future
Teaching Our Future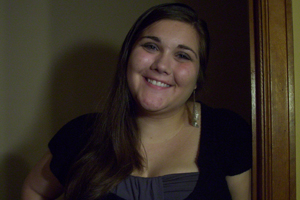 For some students deciding to change majors can be a daunting task, but not for senior Penelope Trethewey. The process was made easier with the assistance of her professors. "There are so many wonderful faculty and staff members that care about you as a person, and like to know about your life and future plans. Many of them have been there for me when I switched majors and felt lost." Now majoring in elementary education, Penelope is quick to point out that she received assistance during the transition from Professor Dale Banks and Karen Van Meter, the director of student teaching.
Penelope was active last year with the Student Activities Board as the school spirit chairwoman. In that capacity, she was involved with fun activities like pumpkin carving, making gingerbread houses, outdoor movies, and planning SMC-Tostal, an event that brought recording artist Sara Bareilles to campus. Penelope was also on the Board of Governance as the health and wellness commissioner. "I brought an alumna back to talk to students, faculty, and staff about balancing our lives," describes Penelope. Of her activities she says, "They were wonderful experiences."
Penelope says the best part of being a Saint Mary's student is the community. 'It's just a place where you can be yourself and find many others with whom you have things in common. People are accepting of your differences and talents," says Penelope. "Saint Mary's gives students the opportunity to show what they can do and to acknowledge their accomplishments."
A student who loves all of her education classes, Penelope says she feels prepared to be a teacher. "I feel it is very important to give the next generation a great education like I received." After graduation the South Bend native plans to become a 4th or 5th grade teacher. "I feel this age is a great time to jump in and help students get ready for the transition to middle school," says Penelope who has observed classes in the three major school districts in the area.
Going into her final year, Penelope says she is happy to have come so far, but sad to have to leave the place she considers home. "At most schools when you graduate you graduate. Not at Saint Mary's. When you graduate from Saint Mary's you will always be a part of something," says Penelope. "Wherever you go, people will know you went to Saint Mary's and will want to tell you about their time there and ask you about yours. It is a never ending family."