Neonatal Nurturing: Teresa Dudding '11 Cares for the Tiniest Lives
On a hospital floor where the tiniest lives depend on her, nurse Teresa Dudding '11 looks and listens for details as subtle and critical as the breath of a newborn.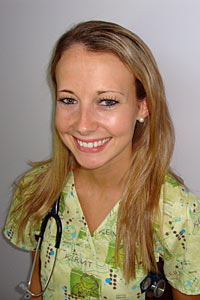 Less than a month after she graduated with a nursing degree from Saint Mary's College, Teresa started her career as a registered nurse in the neonatal intensive care unit at Bronson Methodist Hospital in Kalamazoo, Michigan. It's a floor she's familiar with after working there as a student in the summer and during the school year.
Her new job fulfills a calling she's felt most of her life. "I have known that I wanted to be a nurse since I was in fourth grade and spoke to my dad, a clinical pharmacist, about how much I loved babysitting and taking care of infants," she said. "He mentioned how neonatal nurses care for babies daily and that this profession might interest me in the future. I knew at that moment that nursing was my calling."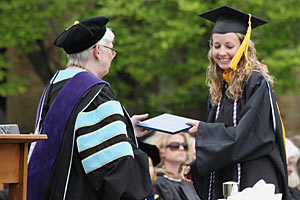 Teresa receives her diploma from Saint Mary's College
President Carol Ann Mooney on May 21, 2011.
She also knew Saint Mary's would be the right choice for her education. The College's renowned and accredited nursing program impressed Teresa, a native of St. Joseph, Michigan. The excellent experiences of her alumnae family members—a sister and two cousins—also helped convince her.
Teresa also received help to finance her education with two scholarships from the College, the Katherine M. McAnaney Memorial Scholarship and the Madeleva Scholarship, as well as two outside awards.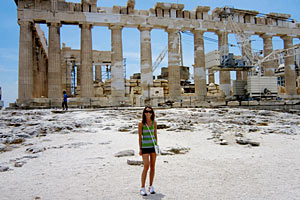 Teresa visited Athens during the summer of 2010.
She made the most of her Saint Mary's year through involvement with the Saint Mary's College Student Nurses' Association and volunteering for the South Bend Center for the Homeless. As part of the rigorous nursing program and in fulfillment of a pediatrics nursing class, she helped care for a medically fragile four-year-old child through the Saint Mary's College pediatric respite program.
"The education I received at Saint Mary's College changed my life," Teresa said. "The College gave me the tools I need to be successful as a neonatal intensive care nurse and allowed me to grow as an individual. I will never forget the relationships I made at the College or the individuals who assisted me in reaching my academic and individual goals." Those goals may include Teresa working towards a degree as a neonatal nurse practitioner in the future.
No matter what, she's ready to meet the challenges that nursing undoubtedly will bring. In fact, she's seeking those challenges. "Saint Mary's women don't sit back and wait for opportunities to come to them; rather they reach out and find ways in which they can use their unique talents to serve God and others," she said.
And as she cares for some of the most delicate patients in the hospital, Teresa is doing exactly that.