The Political Life
The Political Life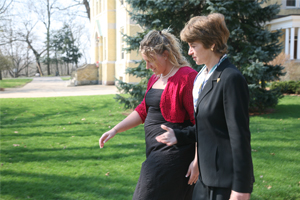 Junior Blaine Nolan had her first taste of politics when she was around six years old. The president of the College Democrats at Saint Mary's remembers attending a sleep over at a friend's house. "I had to wake up really early the next day to be in a parade for a friend who was running for mayor of our town. I was so mad at my parents that I didn't talk to them for a day." Her disappointment didn't last, and Nolan is now actively involved in politics both locally and on a national level. She recently had the opportunity to meet Kathleen Kennedy Townsend, the daughter of Robert Kennedy. Townsend, who is a Clinton supporter, visited Saint Mary's and Nolan escorted her across campus, giving the two a chance to talk.
"She was very concerned about me; she even told me to go to law school, which is something that I have been tossing around for some time now," says Nolan of the advice she received from Townsend.
In addition to meeting Townsend, Nolan has also met Hillary Clinton, Chelsea Clinton, Barack Obama, and John Edwards, her personal favorite. "The day that he dropped out of the race everybody was so worried about me. I went to class, and I went back to my room and I lay in bed and cried all day long. There were actually people who came to my room and checked on me, to make sure that I was okay."
Nolan, who is a political science major and a psychology minor, takes her politics serious, getting involved locally, working on gubernatorial candidate Jim Schillinger's campaign. The Bedford, Ind., native also worked 40 hours a week on South Bend mayor Stephen Luecke's campaign. The work gave her a chance to get to know the city of South Bend, something she would recommend to all Saint Mary's women.
Nolan stays politically connected as a member of the Political Science Club at Saint Mary's, as a state officer for the College Democrats of Indiana, and as the treasurer for Northern Indiana Democrats, in addition to participating in the Psychology club.
Psychology is a discipline she wouldn't have gotten into if it hadn't been for the influence of Professor Tom Parisi. "He just opened my mind to psychology and I fell in love with it."
Nolan enjoys the friendships she's made with her classmates and her professors, and suggests that others pursue that opportunity as well. "They [professors] have connections in a lot of places and they can help get you further in life."
As Nolan considers her future she entertains the idea of running for office someday. "I would probably try to start out locally, either here in South Bend or in my hometown, and just see how it works," says Nolan.
Saint Mary's College does not endorse political candidates.