The Psychology of Success
The Psychology of Success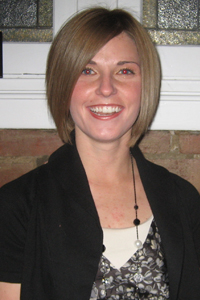 When Megan Ubinger '06 was considering careers in high school, elementary school teacher was at the top of her list. And then she discovered psychology. The Pittsburgh, Pa. native majored in psychology and is currently a psychological trainee in the doctoral program in clinical psychology at Saint Louis University. Ubinger is responsible for providing comprehensive outpatient psychological services to individuals including children, adolescents, and adults, in a university based training clinic that serves the metropolitan St. Louis area. Additionally, Ubinger spends 20 hours a week in two different community placements; she works in an inner-city school that serves children in grades K- 8, and she is a research coordinator in the Department of Pediatric Psychology at St. Louis Children's Hospital.
Saint Mary's gave Ubinger a good foundation for her career. "The psychology department fostered my love for psychology and it provided me with the specific tools needed to pursue graduate work in psychology," says Ubinger. During her junior and senior years she was part of a research team, and she was a teaching assistant for Dr. Rebecca Stoddart, who she says also taught her favorite class, developmental psychology. "My favorite part of that course was the practicum portion," says Ubinger.
Ubinger also worked at the Early Childhood Development Center (ECDC) on campus a few hours each week, assisting the teachers. "Every week I looked forward to working at ECDC because the children were teaching me just as much as I was learning in the classroom."
In a practicum experience at a local elementary school, Ubinger worked weekly with 4th grade girls on body image, self-esteem, interpersonal relationships, and empathy. "In addition, I, along with another student developed and started a pen pal program with the 4th grade girls and Saint Mary's women," says Ubinger of the nationally recognized program that is still in place.
Ubinger also studied abroad in Rome. "Going to Rome was my time to expand my horizon," describes Ubinger. "I was breaking away from more narrow perspectives of life and becoming aware that I could take on a new perspective of life which would make me become a more intellectual woman."
It comes as no surprise that Ubinger garnered a number of accolades at Saint Mary's, including the psychology department's Outstanding Achievement Award, and the Midwestern Psychological Association Psi Chi Research Award, Department of Psychology. She was a resident assistant, a teaching assistant, a VISA volunteer (Volunteer in Support of Admission, leading campus tours and hosting prospective students overnight) a member of the psychology club, and a member of Psi Chi, National Honor Society in Psychology.
Ubinger came to Saint Mary's at the suggestion of her father, a Notre Dame graduate. "Saint Mary's was one of the first schools I was accepted to, and in fact I received my acceptance letter on Christmas Eve. Little did I know that would be the best Christmas present I could receive," says Ubinger.
Like many Saint Mary's women, she made the most of her experience during her time here. "As a student at Saint Mary's I learned to be a strong, ambitious woman who could make a difference in the world. This drive and ambition led me to pursue the helping profession of psychology," says Ubinger. "With a degree in psychology I know that I will make a difference by touching the lives of children and their families, who are in need and underserved. I will always have Saint Mary's to thank for placing me on the path to great things."