The Rosary Project
The Rosary Project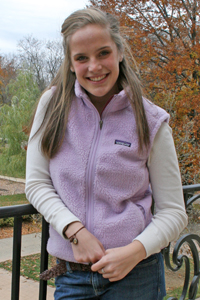 Acts of kindness come in all shapes and sizes. Sophomore Remi White is helping to give her support to troops overseas with a small gesture that makes a big impact. Remi, a nursing student from Grand Rapids, Mich., along with her hometown friend, have been part of an effort to make rosaries for soldiers in harm's way.
"The rosary project started when I was a junior in high school," Remi explains. "My friend found a Web site one day while doing a religion project. We became so interested in the project and thought it would be awesome to get involved."
Remi and her friend ordered the rosary supplies and instructions from the Web site rangerrosary.com. The Ranger Rosaries are made from parachute cord and black, blue or brown beads. They began teaching their friends how to make the rosaries too and even turned rosary making into an all school service project at their high school. All this hard work has led up to an estimated 500 rosaries being made and sent out.
Being a part of the rosary project has been an honor and a moving part of Remi's life. "It is such a rewarding experience to give back to the soldiers who are giving so much to us," Remi says. "Even though it is something small, I still feel it makes a difference. I felt that this was the least I could do for the troops overseas."
Remi's giving spirit carries over to her life at Saint Mary's. She is a resident advisor in Le Mans Hall and is also involved in the Friends with Sisters program which pairs a student with a sister from the Sisters of the Holy Cross.
With a demanding major like nursing, Remi has found the faculty and staff at Saint Mary's to be very helpful. "Professor Barbara Flynn in the biology department has really helped me immensely this year, even though she probably doesn't know it!" Remi says. "She is just so kind and always willing to help me when I have questions. She has taught me to not worry so much about things and that trying my best is the greatest thing I can do."
Remi wanted to attend Saint Mary's since she was a little girl and it is living up to all of her expectations. "I think the best part of being a student at Saint Mary's College is that it involves so much more than education," Remi says. "Saint Mary's prepares its students for every aspect of life."
—Nikki Taylor '11