The Science of Acting
The Science of Acting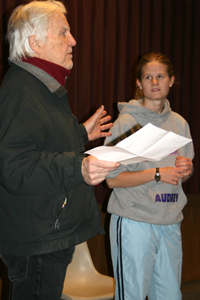 Actor Anthony Zerbe works with
Audrey Marrah '10
Biology major Audrey Marrah '10 showed off her acting skills when she performed in Off the Page, as part of the Quest Project Conference: Exploring the Science/Religion Interface . Audrey, along with other students, spent a week working one-on-one with Emmy-winning actor Anthony Zerbe, who was on campus for the event. "My favorite part of the performance was being able to finally see everyone else's pieces," says Audrey. "We had been working all week on our own pieces, but we hadn't seen any of the other ones, so it was fun seeing how unique everyone's performances were and how they fit each person perfectly."
Approachable and laidback is how Audrey describes Zerbe. "He really helped me to put my thoughts into words. After working with him, I was able to share a part of me that had been in my mind but that I had not been able to adequately share on my own." Audrey memorized and recited a monologue, something she says she wasn't too nervous about until right before going on the stage. Yet her performance went off without a hitch. "He [Zerbe] made me feel very confident and relaxed, and I knew that he was cheering us on the whole time."
Audrey has been a Peer Minister, committee member on Dance Marathon, and a member of the Handbell Choir, the Women's Spirituality Group, the University of Notre Dame Eucharistic Procession Planning Committee, and the Quest Project Conference Steering Committee. She is a volunteer at Memorial Hospital as a HUGS volunteer on the pediatric ward. Audrey was also a research assistant for a graduate student at Notre Dame.
The Kokomo, Ind., native says after she graduates she plans to do a year of international service before pursuing graduate school. But for now she'll continue to enjoy what she thinks is the best part of being a student at Saint Mary's -"the whole Saint Mary's community and the beautiful campus!"