"The Thing Shines, Not The Maker" —Japanese Proverb
"The Thing Shines, Not The Maker" —Japanese Proverb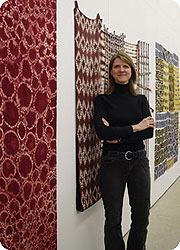 Ask Professor Julie Tourtillotte what she enjoys about teaching at Saint Mary's, and be prepared to fill a notebook. Ask art students what they like about Professor Tourtillotte, and be prepared to do the same.
"Watching her work is very inspiring," says Molly White, who will graduate in May.
"I initially planned on being an art minor and an English major, but halfway through my first semester I realized that art was the place for me. I like being challenged by the faculty, especially Julie."
Molly will be in good company when she enters graduate school or the work world with an art degree from Saint Mary's College. Alumnae include an assistant professor of time arts at the Cleveland Institute of Art, a graphic designer for Disneyland in California, the co-owners of ZG Gallery in Chicago, and a graduate student in sculpture at Penn State University.
In May 2005, Tourtillotte—who is also a Saint Mary's alumna—was honored at commencement with the Maria Pieta Award for teaching distinction. The citation that was read during the ceremony contained quotes from students, alumnae, and colleagues lauding her teaching style:
"I believe she was more excited about the work I was producing than I was! Her constant support and encouragement helped me to have the confidence to commit to the major."
"She is a rare breed…someone who is extremely gifted, extremely generous, and extremely humble all at the same time."
"She is a model for the type of person I want to become."
A gifted fibers artist, Tourtillotte remains current in her field by continuing to exhibit her artwork—some of which is now on display at the Indianapolis Museum of Art. She continues to explore new media, such as video art. Along with another faculty member and two students, she recently attended an arts festival in Berlin, Germany to gain more insight into this innovative medium.
As an educator, Tourtillotte says that she feels proud to be part of a nationally accredited program that "encourages each major to develop an independent voice and vision. Every year, my best students are as good as the top art students you'd find anywhere in the country. They keep me on my toes. They can really hold their own."