Thinking Different
Thinking Different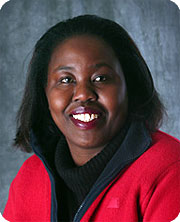 What makes Professor Edith Miguda so passionate about history and politics? "I grew up in a political home," she says. "My father was a member of parliament in the opposition party of Kenya, and he was placed in detention as part of a repression of multi-party politics." As a young girl, Miguda observed political discussions and election campaigns up close. When her father was detained, she saw her mother step in to protect their home life and his political career.
"That must have had some impact on who I am," says Miguda. "In my family, we are all doing politics in different ways." Her own career began at the University of Nairobi, where she studied and taught until 1999. She went on to earn a PhD in gender studies and history at Adelaide University in Australia, becoming an expert on women's political empowerment in the global South. Her sister, Joyce Miguda Majiwa, is running for parliament in Kenya.
In 2006, Miguda arrived to Saint Mary's as a fellow with the Center for Women's InterCultural Leadership. Before her fellowship year ended, the history department invited her to join the faculty. She continues her focus on gender and development, international women's movements, African history, and politics. The timing of her appointment was ideal, since her teaching and research support the College's recently established minor (and concentration within the major) in women's history.
Miguda also serves as faculty advisor to the Africa Faith and Justice Network, a Saint Mary's student group. In that role and as an expert with the International Knowledge Network on Women in Politics (iKnow Politics), she links the College to worldwide networks of contacts and resources.
Reflecting on her contributions, Miguda says, "I tell my students up front that they should expect differences. That, interestingly, becomes part of my teaching. It creates dialogue and engagement with the students in a different layer." Senior Marie-Ellen Ehounou, who took Miguda's African history course, appreciates this approach. "Professor Miguda brought a fresh, non-western perspective to the subject. She was friendly and helpful, but she always pushed us to question our assumptions about Africa."
The ability to play many roles makes Miguda feel she's landed in the right place. "Saint Mary's was kind of a destiny for me," she says. "I'm able to put together so many varied things that I've done."