Tickling the Ivories - Julie Laemmle '11
Tickling the Ivories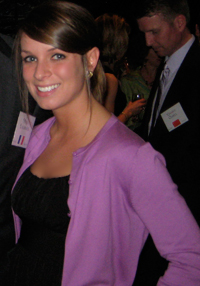 Julie Laemmle '11 was a novice when she stepped into her group Introduction to Piano class as a first-year student. It was the first time she had touched a piano and she couldn't read music.

Julie admits she thought the one-credit course might be an easy "A," a fun elective to round out her first semester schedule. So she was surprised when playing the piano turned out to be more of a challenge than she'd anticipated. "It became one of my most difficult and time-consuming classes," she recalls.

Professor Jeffrey Jacob came to the rescue. As teacher of the introductory piano course, he coached Julie through her rocky start and taught her the fun in learning something completely new. Julie was so inspired by his enthusiasm that she continued with private piano lessons in the spring.

Tickling the ivories is now one of Julie's favorite ways to unwind. "I now enjoy playing the piano and find it very relaxing as well as rewarding. It is a skill I can continue improving and using the rest of my life," she says.

She'll need the stress relief, too. Julie, a communication studies major with minors in business and public relations, is studying for the LSAT (Law School Admission Test) with plans to enter law school after graduation. After earning her JD, she plans on going back to school for an MBA and setting herself up with a career in corporate law.

Her game plan was inspired not only by a passion for both subjects, but by a Mass Communication Law course she took last fall and an internship she has held for the last three summers. This summer Julie interned again at the Kindred Healthcare corporate office in her hometown, Louisville, Ky. She has gained valuable work experience in their IT and corporate communications departments, putting what she's learned in the classroom into practice. 

Now, Julie is busily preparing for law school and the business world. Along with her heavy course load she holds officer positions in several student-run clubs including the Irish Club, Lambda Pi Eta, the communication honor society, and the Student Government Association.

"Coming from a liberal arts college has prepared me for every aspect of my life as I am now a more well-rounded person. I also feel the small classroom setting and focus on written and spoken communication has prepared me for anything that could come at me in law school and the corporate world," Julie says.

But for Julie, it's not a case of left brain versus right brain. She's got the smarts for business and a taste for culture and the arts. During her sophomore year she spent a semester in Maynooth, Ireland, through Saint Mary's Ireland study abroad program, immersing herself in the music, art, culture, history, and social scene of the Irish city. 

She lived in an apartment with four Irish students and experienced the independence that comes with holding your own in a new country and culture. "I loved the laid back atmosphere and stress-free environment there," she says.

So when she needs a break from studying, Julie can chat with her new Irish friends online or even plan her next trip. And there's always tickling the ivories.