An Ear to Listen, A Hand to Hold: Tina Weigle '12 Plans for a Life in Nursing
For Tina Weigle '12, attending a college that focuses exclusively on women's education was critical. So when her former college decided to admit men after her first year, she chose to transfer to Saint Mary's. She feels great about her decision.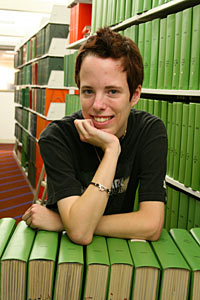 Tina works at the Cushwa-Leighton
Library on campus.

"Saint Mary's is a small college with a big heart," says Tina, a nursing major from South Bend, Indiana. "I am so glad that, with so many women's colleges either closing down or going co-ed, Saint Mary's has held on to something that makes it special.
"I wanted to keep the all-women experience and the small, intimate classes," she adds. "I wanted professors that make time for you and faculty that actually care about your success. I also knew that the nursing program was an exceptional program and I wanted the best education that I could get."
Saint Mary's rigorous and highly respected nursing program is accredited by the National League for Nursing Accrediting Commission (NLNAC) and the Indiana State Board of Nursing. Classes are taught by expert faculty, never teaching assistants, and students say the close mentoring relationships are invaluable for education and personal growth. "I appreciate the hard work that professors undertake in order to help as many students as they can," Tina says. "I love that I am not just a number in a classroom—I am a person that matters."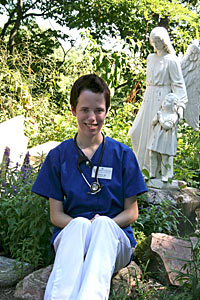 Tina sits by a statue of an angel and
child near Holy Cross Hall. She finds the
statue significant because she hopes
to work as a pediatric nurse someday.
Outside the classroom, Tina participates in community activities such as the Read to a Child program at a local elementary school. "The most meaningful activity I was a part of was volunteering at the YWCA for my Faith in Action class," she says. "I was able to work with women who were building new lives for themselves and their children. They came to the YWCA for different reasons—some were in abusive relationships, some were recovering addicts, and some were simply victims of unfortunate events. However, they all were trying their hardest to make things right."
She also works with children at the Granger (Indiana) Community Church. "I was drawn to the Children's Ministry area, especially the four- and five-year-old classroom," she says. "I spend time with anywhere from 15 to 50 little children, playing with them, talking to them, and teaching them about God. Their personalities are so expressive and their thoughts so unique. I love being able to teach them that they are special, important, and loved by God, their friends and their family. I often leave there having learned something about life."
In keeping with her love for children, Tina hopes to work as a pediatric nurse after graduation. "I have considered going into pediatric oncology—those children have such strength and are wise beyond their years," she says. "If I could help and comfort them during their battle against cancer then I could finally find meaning in my life.
"I would also love to do missionary work that allows me to use my nursing skills to aid those who are in need of medical care," she adds. "It might not even always mean a medical intervention. Perhaps sometimes it would be more important for me to lend an ear to listen or a hand to hold."