To Write (Because Not To Write Was Not An Option)
To Write (Because Not To Write Was Not An Option)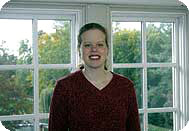 Liz Harter, a Saint Mary's sophomore, wants to be a reporter for the Chicago Tribune after graduation. While she's known that she wanted to write since her first year of high school, it was at college that she discovered her love of journalistic writing.
During her first year, she started writing for The Observer, the daily newspaper that is produced collaboratively by Saint Mary's and Notre Dame students. Recently she was hired as The Observer's associate wire editor.
"Being on staff this year is a lot of fun," says Harter. "I like finding out about things on campus." Harter says she also likes seeing her name in the byline. "My first article ran on the front page. I didn't expect it. I was ecstatic when that happened."
For this English major, the news isn't all that's fit to read. She can't decide if she likes her Shakespeare or her Medieval Literature class best. Harter credits Professor Rosalind Clark, who is teaches Medieval Lit, with broadening her perspective of language—a perspective that is already extensive with Spanish as her second major. Her class is currently reading The Canterbury Tales in the original Old English. And thanks to her Shakespeare class, taught by Professor Christopher Cobb, Harter says, "I've started to recognize more Shakespeare in everyday life," citing an example from a cartoon she happened to see.

Harter had the opportunity to see a performance of a work she'd read, in a medium better suited to the Bard. Traditionally the Shakespeare class attends a play in Chicago, and Harter and her class saw Hamlet at Navy Pier. "It was a really good performance, probably the best I've ever seen."
Field trips aside, it's her professor's teaching style that Harter most appreciates. "We actually have discussions rather than [the teacher] just speaking at us. It helps me wrap my mind around it. If I don't understand something, more than likely, someone else did. It allows me to see how they're approaching it."
And, Harter says she appreciates the benefits of attending a college dedicated to the education of women. "The atmosphere is very different. It's very relaxed, but at the same time you're expected to follow through on your responsibilities. It makes me feel like someone actually cares what I do."