Trekking for a Cure - Olivia Wickstrom '10
Trekking for a Cure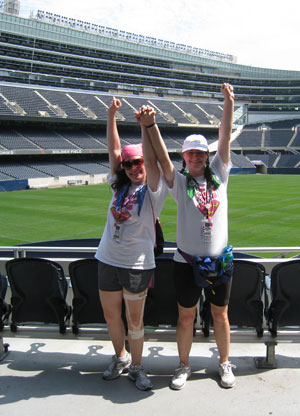 Senior Olivia Wickstrom (right) and
her sister Emily Wickstrom '09
participated in the Susan G. Komen
Breast Cancer 3-Day walk.
Nursing major Olivia Wickstrom '10 truly walks the talk. Last summer she walked in honor of all those who have suffered from breast cancer—including family friend Margaret, who inspired her to be a nurse—in the Susan G. Komen Breast Cancer 3-Day walk.

The walk started out at Soldier Field in Chicago and Olivia and thousands of other women walked 60 miles together over a period of three days to raise money for breast cancer research.

Trekking through the neighborhoods of Chicago, where people came out to cheer on the walkers and offer them snacks and water, Olivia was brought to tears. "[The walk] hurt and by the time it was over, I had 11 blisters, but it was so worth it. I even got a pin that said 'Blisters don't need chemo,' which really says to me why we were walking. It's not just about [raising] the money, but about the experience," Olivia says.

Olivia was impressed by the walkers' collective power to make a difference when they joined together to support a cause in which they all believed.

Now, through her chosen career path, Olivia is planning to make a difference in the lives of oncology patients, whom she calls her heroes.

Olivia chose Saint Mary's nursing program with family friend Margaret in mind. Margaret has been battling breast cancer for eleven years. "She was only given two years to live after her diagnosis, so that fact that she is still here is a miracle," says Olivia. "She always talks about the caring and supportive nature of her nurses and the great relationships she formed with them. She inspired me to be a nurse."

After graduation, Olivia plans to work in the field of oncology and is also considering work as a labor and delivery nurse.

Click here to read about more of our Exceptional Seniors.