Two Belles=Great Teaching
Two Belles=Great Teaching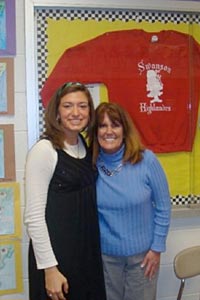 Franca Peluso '11 and Mary Ellen Jozwiak '85
Sometimes fate brings two people together. This seems to be the case for Franca Peluso '11 and Mary Ellen Jozwiak '85, a Saint Mary's student and alumna, both from Pennsylvania. Peluso is from Greensburg, Pa., just 30 miles from Jozwiak's hometown of Pittsburgh. The two met at Swanson Primary Center in South Bend, Ind., where Jozwiak teaches first grade. Peluso is participating in a service learning experience in Jozwiak's class, as part of her elementary education major with a certificate in special education: mild interventions . Both women can speak to how well Saint Mary's has prepared them to be teachers.
"Saint Mary's offered me lots of field experiences, which prepared me for everyday life in the classroom," says Jozwiak who has been teaching for 24 years. Peluso echoes those sentiments.
"Our education department offers wonderful opportunities for its students by sending us into the field during our first year on campus," says Peluso. "Because of this experience, I have been able to recognize my true passion for teaching."
Peluso says she chose Saint Mary's because it was the perfect fit, something she felt was important while living so far from home. "The Saint Mary's staff and faculty have welcomed me with open arms since my first visit." Peluso also says she was interested in the challenges the College offered her, particularly as a varsity women's tennis team member. "As my tennis coach Dale Campbell noted in a recent team meeting, 'You wouldn't be at this institution if you did not want a challenge.' Saint Mary's women want the challenge that will push them to reach further than they ever thought possible. That is why I chose Saint Mary's."
Peluso takes that challenge to heart, participating on the Student Athlete Advisory Committee, the education club, and numerous service groups on campus and in the local community. But it's the time she's spending with the children in her class that is winning her over.
"Franca helped out with some of my struggling students," says Jozwiak. "She instinctively knew who to go to. The children loved her, and she was well prepared for a classroom experience because of Saint Mary's education department. She seemed comfortable and at ease in the classroom."
Peluso's success in the classroom will soon translate to success in her own classroom. Her plans include becoming certified in special education, attending graduate school to get her master's degree in education, and pursuing further studies in children's communication. "Personally I believe education provides unlimited opportunities and I am looking forward to what the future will bring."