Up For the Challenge - Brynn Thomas '11
Up For the Challenge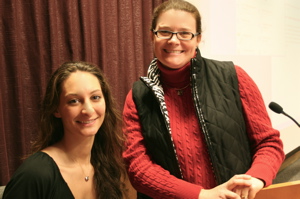 Brynn Thomas and Professor Susan Latham
Brynn Thomas isn't one to shy away from a challenge. In fact, the senior psychology major chose Saint Mary's because of the new experiences the College would offer her. "Coming from a co-ed high school, Saint Mary's was a large step outside of my comfort zone and I wanted to challenge myself," she says.
Saint Mary's turned out to be a perfect fit and the next challenge Brynn faced was selecting her major. She chose psychology with a minor in communicative disorders. These choices helped Brynn map out a career path based on her interest in autism.
Brynn's sister has high-functioning autism. In high school, Brynn learned a lot about autism spectrum disorder from her sister's therapist and, after taking an advanced placement psychology course, Brynn took an interest in working with kids with autism.
At Saint Mary's, Brynn took courses taught by Professor Susan Latham, coordinator of the communicative disorders program, enhancing Brynn's favorite part of the academic experience.
"The moment when I can apply or connect what I have learned in class to a real life situation is something that I really enjoy. The professors in my classes expand on the subject as much as possible to show the students how relevant it is. They show us how we might normally overlook a situation but with our new knowledge, we can recognize it and learn from it," Brynn explains.
In her junior year, the two decided to apply Brynn's learning and Latham's own research through the Student Independent Study and Research (SISTAR) program. SISTAR grants fund summer research for student-faculty teams during which the student acts as a junior colleague. SISTAR teams present their research the following semester to the College community and at professional conferences all over the country.
Brynn and Latham were awarded the 2010 Maryjeanne R. Burke and Daughters SISTAR grant and took on the topic of autism treatment. In addition, Brynn worked, and still works, with Professor Joshua Diehl at Notre Dame in the University's F.U.N. (For Understanding Neurodevelopment) lab. 
Hands-on experience in her chosen field is helping to shape Brynn's future. "Being able to take my interests, something I enjoy doing, and turning them into a career would be an amazing accomplishment," she says.
The key to facing her next challenge—beginning her career after graduation this year—is flexibility, Brynn says. "I try to look at life as a path that continually changes. Every time I create a plan for myself, it is inevitable that I will have to adjust it. I try to adapt to life, while staying calm and optimistic."